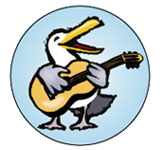 CiTR 101.9 FM is pleased once again to be bringing you live coverage of the 2011 Vancouver Folk Festival from Jericho Beach Park in Vancouver.
Tune in from 8am-12pm as Steve Edge and Linda Bull co-host The Saturday Edge on Folk and tune in again from 3-5pm as Adam Janusz (host of The Arts Report) and Val Cormier (host of Folk Oasis) bring you more live coverage from the festival.
Tune in at 101.9 FM or online! Have comments or questions, call the on-air booth at 604-UBC-CITR.
Come by and visit the CiTR Mobile Broadcast Booth at Stage 3 at the Vancouver Folk Festival. We have prizes and swag to give away!