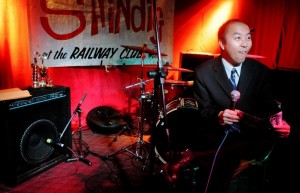 We are now accepting entries for SHiNDiG! 2011, held Tuesdays in fall at the Railway Club.
SHiNDiG is CiTR's annual battle of the bands competition. All styles are welcome — whether you are a solo country artist or a 10-piece punk band. Past participants includes the likes of The Organ, 3 Inches of Blood, You Say Party! We Say Die!, Japandroids and They Shoot Horses Don't They?.
You'll need to send us a minimum 3 song demo of original material (CD/MP3/MySpace/Bandcamp/Whatever. Rough mixes absolutely OK. We'll get the idea.) and your contact information (email + phone number). Bios, photos or other information are not required but we will look at them if you send them in.
Please email all the above to shindig.submissions@gmail.com before August 12th 2011. Alternatively, we also love Canada Post. Put everything in an envelope! Mail it or drop it off before August 12th 2011 to:
SHiNDiG! 2011
c/o CiTR Radio
#233-6138 SUB Blvd.
Vancouver, BC V6T 1Z1
Canada
NOTE: Bands play for only prizes. We are giving you a chance for exposure, and not paying you. Bands can only play Shindig once in their lifetime.