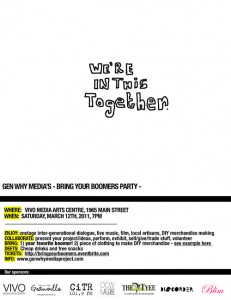 Gen Why's second event and inaugural BYB (Bring Your Boomers) party brings generations together for on-stage inter-generational dialogue.
Gen Why will pair innovators with Boomer influencers to discover what we can learn from each other, how we can inspire re-imagination and why it's important to work together.
Boomer Participants
Ken Lum – internationally celebrated multidisciplinary artist
Nettie Wild – acclaimed Vancouver documentary filmmaker
Kathleen Mahoney – internationally recognized human rights lawyer and law professor
Gen Why Participants
Nimisha Mukerji – director of the award winning documentary 65_RedRoses
Leigh Christie – engineer, sculptor, event producer and co-founder of the eatART foundation
Caleb Behn – law student and Chair of the Indigenous Circle at the Canadian Environmental Network
The evening includes live music, including Zachary Gray from The Zolas, and local artists, including Vancouver's renowned street artist, Indigo. There will be drinks, free snacks, door prizes, fun surprises and a Do-It-Yourself Gen Why merchandise making station (bring an old t-shirt!).
March 12th, 2011 | Doors 7pm | Tickets $10 in advance, $12 at the door | Facebook