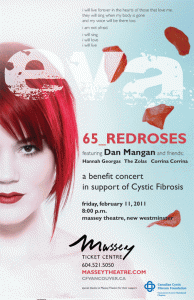 The Canadian Cystic Fibrosis Foundation (Vancouver Chapter) and the Massey Theatre are hosting a benefit concert in memory and celebration of Eva Markvoort, a New Westminster woman who died on March 27, 2010 after a lifetime battle with cystic fibrosis.
Headlined by DAN MANGAN, the 65_RedRoses concert will also feature magnificent local musical talents of
THE ZOLAS, HANNAH GEORGAS, and DAVID VERTESI.
No fees are being paid to the artists. All proceeds from the event will go to the Canadian Cystic Fibrosis Foundation in honour of Eva Markvoort. Eva raised awareness for cystic fibrosis and organ donation through her popular blog 65_RedRoses and was the subject of an award winning documentary film of the same name.
For tickets and more information visit masseytheatre.com or cfvancouver.ca. Sponsored in part by CiTR 101.9 FM.
SOLD OUT!
Friday, February 11, 2011 | 8pm | Massey Theatre, New Westminister