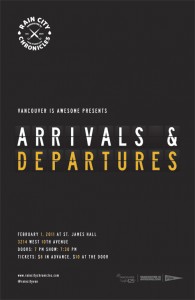 Rain City Chronicles is a series of storytelling nights featuring a diverse roster of Vancouverites. From your favourite actress to the guy who sells you coffee, we believe everyone has a great personal story to tell. The mission is to provide a community space for sharing these stories. The night feature stories, treats, music and beverages.
February's theme is Arrivals & Departures. From stories told of family trees to the moment we decide to drop everything in pursuit of an adventure, life is full of comings and goings. New cities, old loves, new strangers and old fears that pepper the ebb and flow of our lives.
Speakers: Scott Colbourne, Dave Deveau, Robert Duncan, Kaitlin Fontanta, Dave Godsall, Monica Hamburg, Hilary Henegar, Colleen Kimmett, Claudia Kwan, Marianela Ramos Capelo,
Musicans: Chris Kelly, Mississippi Live & the Dirty Dirty
Tickets are available here.