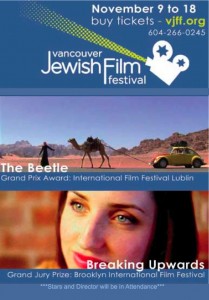 The 22nd Annual Vancouver Jewish Film Festival features a diverse array of films ranging from comedies, narrative features, and thought provoking documentaries. The Festival runs from November 9th to 18th.
Be sure to check out films like Breaking Upwards, a quirky romantic comedy about a young New York couple who intricately strategize their mutual break up or The Beetle, a funny mockumentary about film director's obsession with his 40 year old Volkswagen Beetle and his effort to restore it. He finds himself on a journey meeting previous owners who tell remarkable stories about the car, and the journey ends with the birth of his first child.
For tickets and festival information, visit vjff.org.