On Wednesday's Art Report…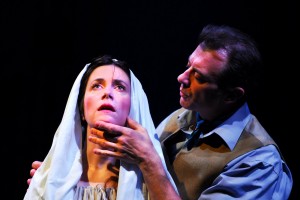 The Madonna Painter
For the next week the Telus Studios at the Chan Centre becomes a quaint Quebec town in 1918 struck with a deadly flu epidemic. A handsome and young priest enlists the help of an artist to stop a flu epidemic by creating a fresco of the Virgin Mary as an artistic sacrifice. With four supposedly virgin girls contending to model as Virgin Mary and a sinister doctor funding the whole project, one can only imagine the dark drama that ensues. A black comedy about sex, superstition and religion, The Madonna Painter will feature Barbara Kozicki as one of the Marys. Fortunately, we'll have her on the show today talking about the play!
Pick up tickets for shows from Nov. 10 – 20 here!
Jewish Film Festival
This month seems to be a popular month for film festivals as this week from Nov. 9th -18th, we have 22 films from across the globe together in Vancouver for the Jewish Film Festival! The opening night gala presents Anita, a film about a Jewish woman with Down syndrome that finds ruthlessness as well as surprisingly amount of kindness within Buenos Aires as she wanders lost in her city. Along with that film, they also have films of other varieties such as a movie about a couple's exploration of alternate options to monogamy in New York and another film that focuses on the Berlin Olympics in 1936. On the show, the executive director of VJFF, Robert Albanese will talk about more movies in the festival.
Vinetas del Mozaico
An intoxicating fusion dance show called Vinetas del Mozaico is coming to the Scotiabank Dance Centre from Nov. 12th- 14th. Stemming from the gypsies in Spain, the lively dance of flamenco exhibit large floaty dresses and spirited music. This show in particular will fuse together a medley of cultures with inspiration from a famous bar in Spain called Café de Chintas (Chinese Cafe) which is known for its diverse influence on flamenco. Co-artistic director Kasandra la China tells us all about it!
There's a great article in the Burnaby Now with Kasandra that delves into the roots of Flamenco and it's history of discrimination. Read it here.
We'll give away 2 tickets to Vinetas del Mozaico on the show!
The show will also feature…
…a special theatrical experience called Us and Them, where the audience is participatory in the performance. We'll also hear from the dance show at The Cultch called Hero and Heroine/Audible from Nov. 9th – 13th. We'll also talk about the one-woman show Trudeau Stories with Brooke Johnson.
PLUS: Free tickets and free beer to 30:Live tomorrow!
Listen in today at 5PM!
Subscribe to the Arts Report podcast!
Follow us on twitter: https://twitter.com/citr_artsreport