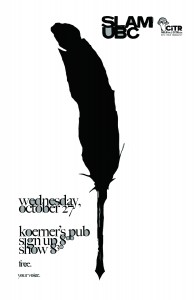 Listen to the podcast here.
Your spoken-word-supporting campus radio station, CiTR 101.9 FM broadcasted the UBC Poetry Slam live from Koerner's Pub on Wednesday, October 27th.
This month feature poets include Mike McGee, Mindy Nettifee, and Brian Ellis.
UBC Poetry Slams are on the last Wednesday of every month. For more information, visit the Slam UBC website.