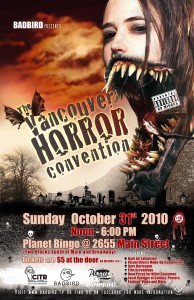 Badbird and CiTR 101.9 FM present…The Vancouver Horror Convention
Date : Sunday, October 31st, 2010
Time : Noon – 6 pm
Place : Planet Bingo (3rd Floor) – 2655 Main Street
Tickets : $5 at the door (No Minors / 19+)
On Halloween day, horror fanatics from across the lower mainland will converge on Main Street to celebrate horror culture. Artists, film makers, special effects personnel and local vendors, with a performance of gore burlesque and a DJ set from Pyra Draculea aka DJ Drake, host of Vampire's Ball on CiTR 101.9FM.
Two feature films are being screened (and several shorts); make-up effects artists competing for the Dr. Frankenstein Award; a Zombification Lab where you can get your Halloween make-up done for a small donation to charity; a Q&A session with Plotdigger's Ryan Nicholson; artifacts from the world of horror; wicked clowns and entertainers; tons of door prizes for costumes; and vendors of horror related items.
Visit www.badbird.tv for more information.
Noon: Doors Open
1:30 PM: Film Screening of Soska Sister's Debut Film "Dead Hooker in a Trunk"
4:00 PM: Film Screening BC Premiere of "Star Vehicle"
5:15 PM: Q & A with Plotdigger's Ryan Nicholson
5:45 PM: Presentation of Dr. Frankenstein Award for Make-Up Effects Competition
6:00 PM: Meeting to Discuss Vancouver Horror Con 2011
8:00 PM: Official After-Party of the Vancouver Horror Convention, Sin City Fetish Halloween Party @ Celebrities