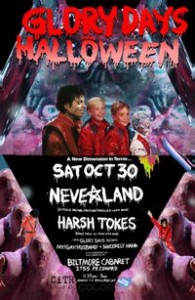 On Saturday, October 30th, CiTR is sponsoring "GLORY DAYS HALLOWEEN w NEVERLAND + HARSH TOKES". NEVERLAND are a 10 Piece MICHAEL JACKSON "Thriller" COVER BAND! + HARSH TOKES (BOGUS TOKUS one night only PUNK COVER BAND) with GLORY DAYS resident deejays, MY!GAY!HUSBAND!+SINCERELY HANA.
Advance Tickets at Zulu and Scratch Records, doors open at midnight.
Check out the event on the ol' facebook for more deetz.