[Podcast now available if you missed yesterday's show!]
On Wednesday's Arts Report…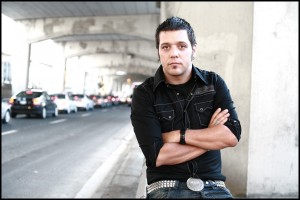 Strombo!
George Stroumboulopoulos will be on the show, talking about the 7th season of his CBC TV show. We get his thoughts on the state of Canadian culture (and find out if his ambition is to save Canada), plus we ask him what's been the weirdest pronunciation of his name.
Jon and Roy open Live Sessions at the Chan Centre
Jon from the laid back rock duo Jon and Roy is on the show–perhaps most famous for "Little Bit of Love", which has a great cartoon compilation video. They're opening the Chan Centre's Live Sessions series on Thursday, September 22 at 7pm.
Plus, a preview of the Vancouver International Film Festival with Executive Director Alan Franey–coming Sept 30, the scoop on the Renfrew Ravine Moon Festival this Saturday, and lots more!
Plus free tickets to local band Familia at the Forum on Thursday night!