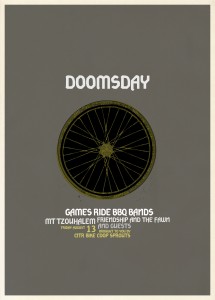 Love to bike? Love music? Love to eat food in the park?
Join CiTR, the Bike Co-op, and Sprouts for DOOMSDAY and celebrate Friday the 13th in style. We're encouraging everyone to get on their bikes and join us for this multi-location event.
4:00 Tupper Secondary (tennis courts at E 22nd Ave and St. George) for bike polo and mini bike games
6:30 Ride to Crab Park
7:00 Crab Park for BBQ and live acoustic music
BANDS:
>MT TZOUHALEM (Geoff Vincent)
>FRIENDSHIP AND THE FAWN
>SUPER SPECIAL GUESTS!