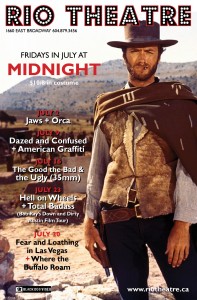 CiTR is a proud sponsor of the midnight screenings at the Rio Theatre at East Broadway and Commercial Drive. Don't miss the midnight double bill cult classics (35mm when available) on the big screen.
July 9th
Dazed and Confused + American Graffiti
July 16th
The Good the Bad & the Ugly (35mm)
July 23rd
Hell on Wheels + Total Badass
July 30th
Fear and Loathing in Las Vegas + Where the Buffalo Roam
There are live hosts and pre-show entertainment at every midnight screening. Dress up in costume for $2 off the $10 ticket price and join the fun! For more information, visit the Rio Theatre's website here.