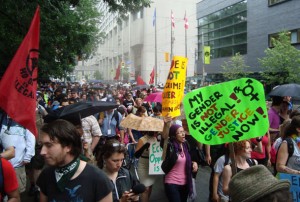 CiTR's News Department is committed to providing alternative coverage of events large and small. We worked to provide listeners with an alternative to the mainstream media's coverage of the Winter Olympics. We would love to be in Toronto reporting from on the ground, but we are delighted to bring you coverage from our friends at CKDU Halifax and the Alternative Media Centre.
This is the sixth G20 report, which you can find here. In this podcast we will hear the voices of those fighting against poverty, ableism, and borders, as well as highlights of speeches that were given during the march. We'll also bring you a report from the Toronto court house regarding the use of the sound cannon. Finally will go to the film studio turned jail and hear what people have to say about arrests that were made throughout the day.
Past podcasts and articles can be found on the G20 Alternative Media Centre's website. Also, thanks to CKDU Halifax for being part of this alternative G20 coverage and assisting with the production of the G20 podcasts.