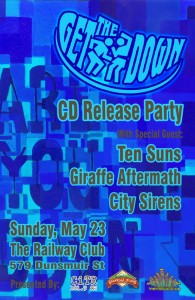 Vancouver indy band The Get Down release their second album, "Are You Down?"! Produced by Hamish Thomson (Ten Suns, The Hermit, Big Tall Garden), and featuring the talents of cellist Ariel Barnes (The Tragically Hip), saxophonist and producer Anand Greenwell (Jets Overhead,The 11 Hour Orchestra, Jessi Nicholson Band) and singer songwriter Chelsea D.E. Johnson, the new album is sure to please fans of many different genres.
The eclectic sound of The Get Down is coming to town! May 23rd @ The Railway Club. The evening will be featuring Hamish Thomson's "Ten Sun's" (), great local
reggae rockers Giraffe Aftermath , Hamilton, Ontario's very own City Sirens and of course The Get Down.