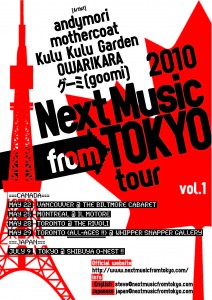 Japanese cuisine, animation ("anime"), cinema and video games are aspects of Japanese culture that have successfully crossed over to North America. However, Japanese music despite its incredible diversity, creativity and exotic appeal has had very little exposure in Canada.
On May 22, the Biltmore Cabaret will host five bands from Tokyo, allowing you to sample the burgeoning indie/underground scene from across the globe. Touring bands include:
andymori-hailed by iTunes Japan as a "Sound of 2010" breakthrough artist, this humble trio of musicians play power-pop/punk akin to the Arctic Monkeys that combines timeless melodies with unbridled energy. Having only formed in 2007, andymori have already performed at every major rock festival in Japan.
mothercoat – experimental rock band with an incredibly quirky sense of humor and lushly complex orchestration. mothercoat have visited the US twice and showcased at SXSW in 2007.
OWARIKARA – psychedelic rock band locally known for their intense and unruly live performances.
Kulu Kulu Garden – gathering influences from bands such as Boredoms, Sonic Youth and Melt Banana, Kulu Kulu Garden mixes catchy pop melodies and ferocious guitar-driven rock. Though the words "perfect pitch" would never describe bassplayer/vocalist Miyahara's singing, her charisma and intensity on stage gives the performance its charm.
goomi – "underground pop" with sublimely harmonized male-female vocals. Though the trio of musicians primarily use guitar, bass and drums, they also incorporate violin, alternate percussion instruments and the glockenspiel to add diversity to their unique sound.