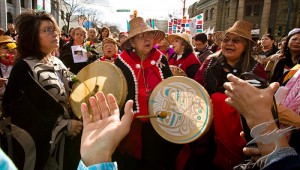 SPECIAL OLYMPICS COVERAGE
Violent protests, student journalists, media censorship and a somber march in the Downtown Eastside mark the first days of the 2010 Winter Olympics.
On Monday, February 15, we talk to David Eby from the BCCLA about the Legal Observers and the implications of violent protesters, we chat with reporters from the Ubyssey – UBC's student newspaper – about covering the games and we hear from reporter Kate Hughes about the atmosphere in Whistler. We also take a look at the 19th annual Commemorative March for the Murdered and Missing Women of the Downtown Eastside. Also, the Vancouver Media Coop discuss the IOC's attempts to silence an independent and critical report about the Games.
Listen here!
Subscribe the CiTR News podcast
Follow us on twitter: @CiTRnews