CiTR, in association with Theatre Inconnu and ITSAZOO Productions, is proud to present SCORCHED by Wajdi Mouawad, translation by Linda Gaboriau, January 19 – 31 at the Waterfront Theatre.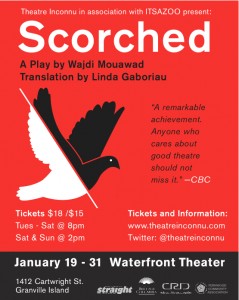 This 2007 Dora Award-Winning play explores themes growing out of the immigrant / refugee experience. It has proven itself one of the most powerfully engaging dramatic works to be produced in this country during the past three years. Civil war in the Middle East forms the backdrop for much of the play's action as Mouawad explores with profound insight the concepts of love, loyalty, and betrayal.
Click for tickets or more information.