When I arrived at the show, I was met by a wall of swords. While it was far from a conventional venue, Academie Duello — Vancouver's School of Modern Swordplay — perfectly set the atmosphere for Gentle Party's album release. The spacious studio, normally reserved for various styles of medieval combat instruction, was instead filled with small groups of people softly chatting among the racks of blades that surrounded the dimly lit room.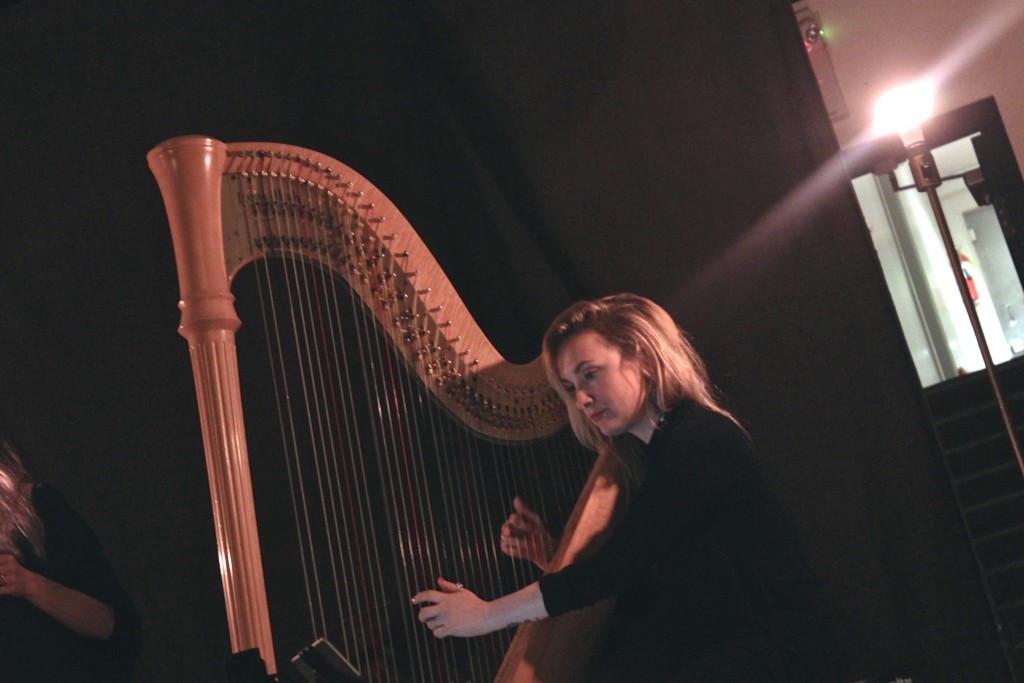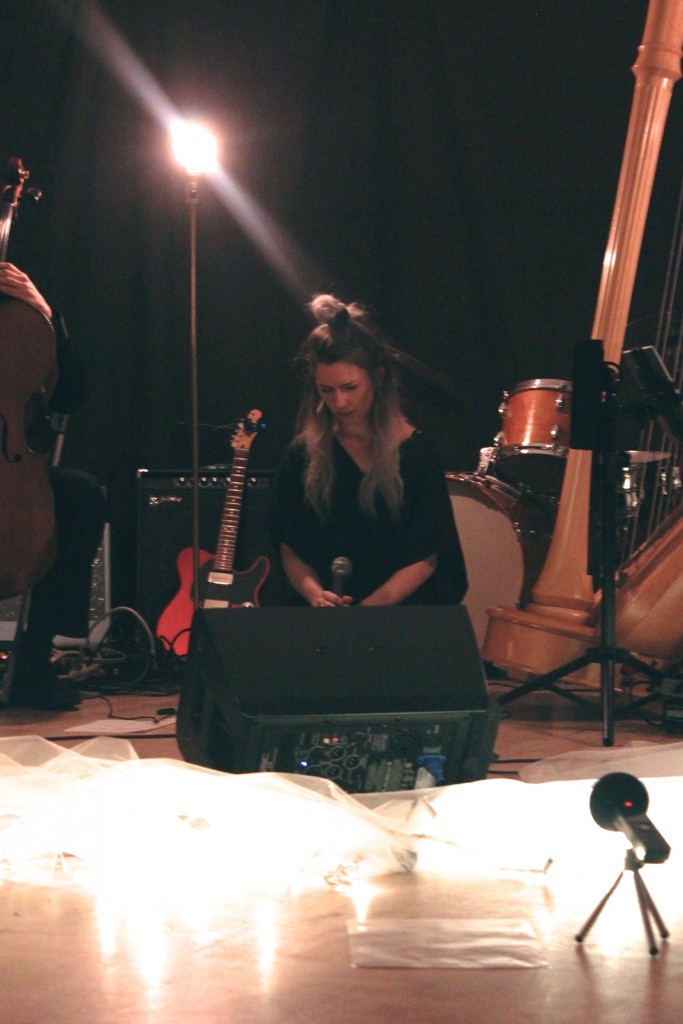 As I studied the assortment of crests adorning the brick walls of the space, and the conversations continued humming behind me, Gentle Party quietly slippedonto the stage, readied their instruments and let loose a single, powerful chord. It swept across the room and snapped the crowd to attention. Almost instantly the audience sank to the wooden floor, sitting enraptured by the quartet. Despite it being their own release show, Gentle Party showed no hesitation in performing first.
Harpist Elisa Thorn, violinist Meredith Bates, cellist Shanto Acharia, and vocalist Jessicka serenely moved through selections of their debut album, Jouska, mixing elements of chamber music, jazz and musique concrète, among other styles. Between the staccato pop of "Trophies" and the impressionistic instrumental "Boy Children," the intricacy and subtlety of their music united their performance and demanded close attention.
As the set went on, I found myself drawn to the oxymoronic phrase "modern swordplay" as an apt metaphor for the music Gentle Party created. By incorporating recorded soundscapes and slight electronic manipulations into their seemingly antiquated instrumentation, they blended the old with the new. Both the band and the space were suspended in time, pinned down to no singular era.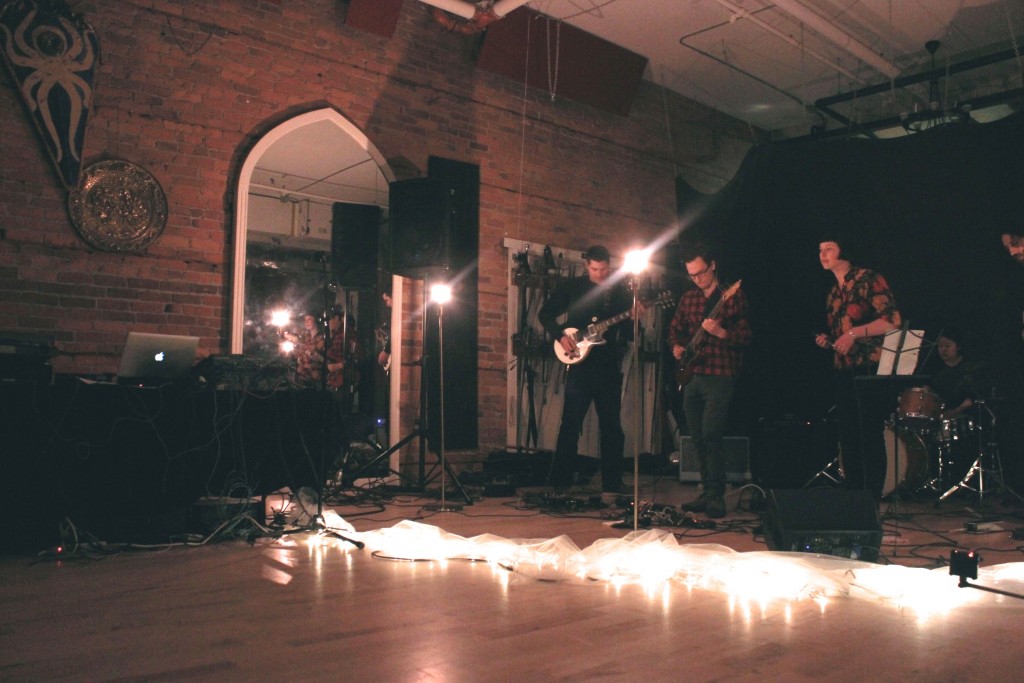 Moondle — the would-be opener for the night — took to the stage after a brief intermission. With a slightly more conventional set up (vocals, two guitars, bass, and drums), Moondle continued where Gentle Party left off in combining disparate genres with incredible technique and musicianship. Emma Postl's voice effortlessly spread across jazz-influenced melodies, as Eli Davidovici's bass lines grounded the quintet; Thomas Hoeller and Cary Campbell's guitar parts were passed back and forth, both defining the atmosphere of each song, and elaborating upon it; Mili Hong's drumming was near virtuosic.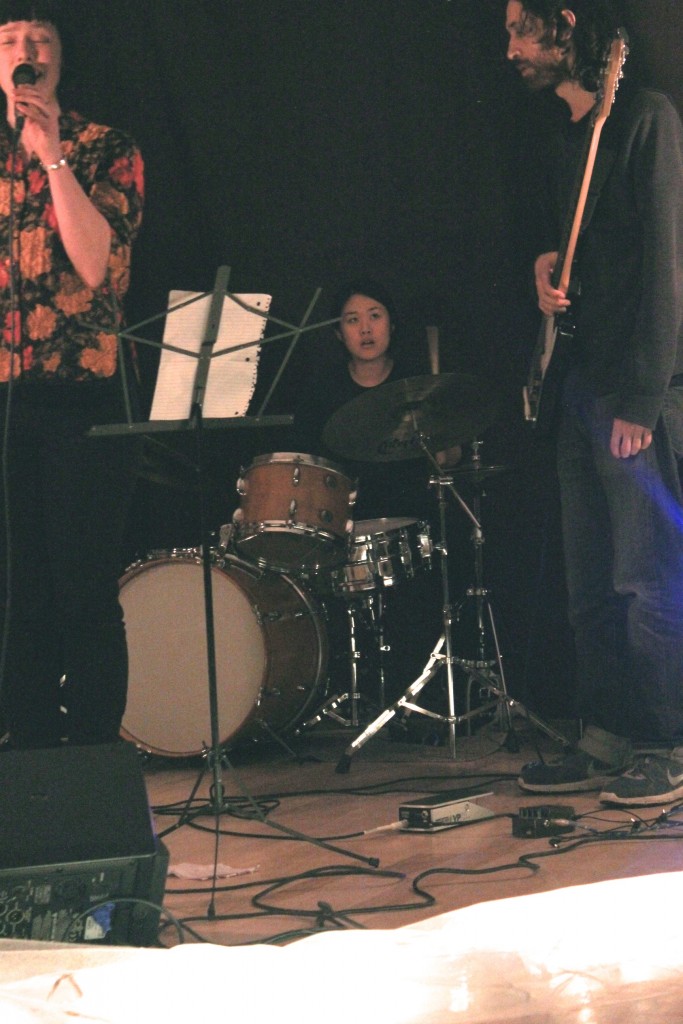 Unfortunately, Moondle suffered from the all-too-common problem of having the guitars far too loud. As is the case with many guitar based bands, the two guitars overpowered the other instruments and muddied the overall mix. Especially in the swordplay studio, with an impressively attentive crowd, there was no need to have the guitars at such an attention grabbing volume.
As I stepped out onto the street after the show, it felt like I had stepped out of a time machine back into the present. I'm not sure where or when I had just come from, but it sure had sounded good.