I met with Nxc Hxghxs at a busy coffee shop in East Van. New to the neighbourhood, and to Vancouver in general, I feared a wave of impostor syndrome would come over me when meeting them. Nxc is a pioneer of the now wave scene in Vancouver, fronting bands like Shearing Pinx and Princess Apparently, as well as pursuing several solo endeavors.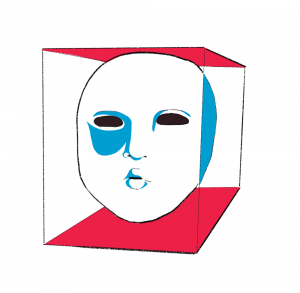 Their current personal project, Maskara, is set to release the cassette Winston Slip in the coming months. Nxc is also behind the label Isolated Now Waves, and has one of the biggest discographies (300+ pieces) I have ever seen. So yeah, I was nervous.
Yet meeting Nxc was genuinely comfortable and welcoming. They explained to me that sometimes they're okay with sitting in silence because they have a hard time talking about themselves. Nxc explains they have also experienced their share of impostor syndrome, despite living in Vancouver for almost 20 years. "When people move [to Vancouver] they always feel like it's so hard to meet people and crack into a community," Nxc suggests, joking "maybe we're all so siloed off in capitalism stress and daily life existence." 
I can agree — Vancouver is a huge city with a multitude of scenes, it can be hard to find your niche. I was curious to know if they'd found a distinct community in music since moving to Vancouver. Nxc explains,"I've honestly never quite felt like I had a queer community. There is a community of bands that support one another, but in terms of a queer scene I felt attached to — I've never felt that here. I think people are inclusive in the music scene, and they want to support minorities, but it's hard breaking the ice." Nxc explains that it can be complicated finding a niche when you don't fully know which one you belong to, "I don't really know where I stand sometimes, it's so weird, navigating an existence in these binary terms when you don't quite fit either. Sometimes you can fit in one lane for a while but then not. Sometimes I wish I just felt comfortable in one of the others." 
Nxc's music career both fluid and expansive, with tenure in the Vancouver now wave music scene. When asked about their gender identity, Nxc explained, "If you're an artist and people want to talk to you in a magazine you shouldn't hide the fact that you're non-binary, it's the only way we're going to navigate through this societal change we're going through."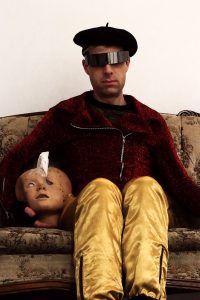 As a teenager, Nxc's first band consisted of themselves, their cousin and their neighbour. Together they built their own punk scene in the Okanagan. Nxc then moved to Vancouver and started playing solo shows in 2004 and has been a staple of the independent scene since. Nxc explained that because they have been musically involved in Vancouver for so long they are a bit more relaxed now —  "I'm kind of a homebody these days, I go to my jam space which is also Red Gate, and there will be shows happening and me and my friends will hang out in our room and do karaoke or jam." I asked Nxc what's changed over the years, and if their music has followed this maturing of personality, to which they said; "Maskara is a little bit more slow, more warped, and I've added performance art and props when I perform. I have my backing track and sing over my songs, then have an instrumental break, like I'm performing my own karaoke."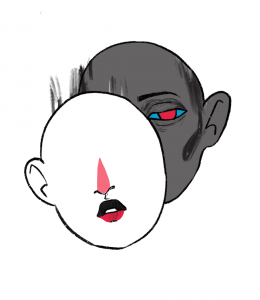 What's next? Nxc says they would like to tour Europe. "It seems so inviting. You can see a bunch of these little towns and you're welcomed in with a bed and food." They also want to get back into making movies, "I haven't since like 2003, but I'm much more inspired by watching movies these days and getting ideas from that." 
Nxc Hxghxs is insanely multi-talented as a musician and overall artist — meaning they have been, and currently are redefining what it means to be fully yourself on any platform. Their originality in sound and stage performance expands and shapes Vancouver's music scene by welcoming newcomers and allowing them space to express themselves. I am eagerly waiting for Nxc's forthcoming release under Maskara, as well as Princess Apparently's Last Night's Ass: Demolition Mix Tape, which is soon to be available on bandcamp. If you get the opportunity to see them live, I would take it and run.