Sled Island is a time of discovery. Over the years, I've found that the best experiences at the annual music and arts festival in Calgary are often the ones I least expect. With over 200 bands and overlapping show schedules, I've wandered into shows I did not anticipate going to and come out with a new favourite band.
Last year, my pleasant takeaway was Feed Dogs — an Edmonton-based garage rock group playing upstairs at the Legion on the Saturday night. I wandered up to escape the crowds of Shonen Knife downstairs and left delighted, my head spinning with jangly guitars and smiles.
This year was no different. Here are my three picks of the best new (to me) shows from Sled Island 2018.
Cartel Madras (Calgary):
Pleasant surprises came fast and early in the form of Calgary rap group Cartel Madras, who headlined Sled Island's Tuesday night kick-off show at Commonwealth Bar and Stage. Cartel Madras is a relatively new entity — while sisters Eboshi and Contra have rapped together in their basement for years, they only really started performing within the past year.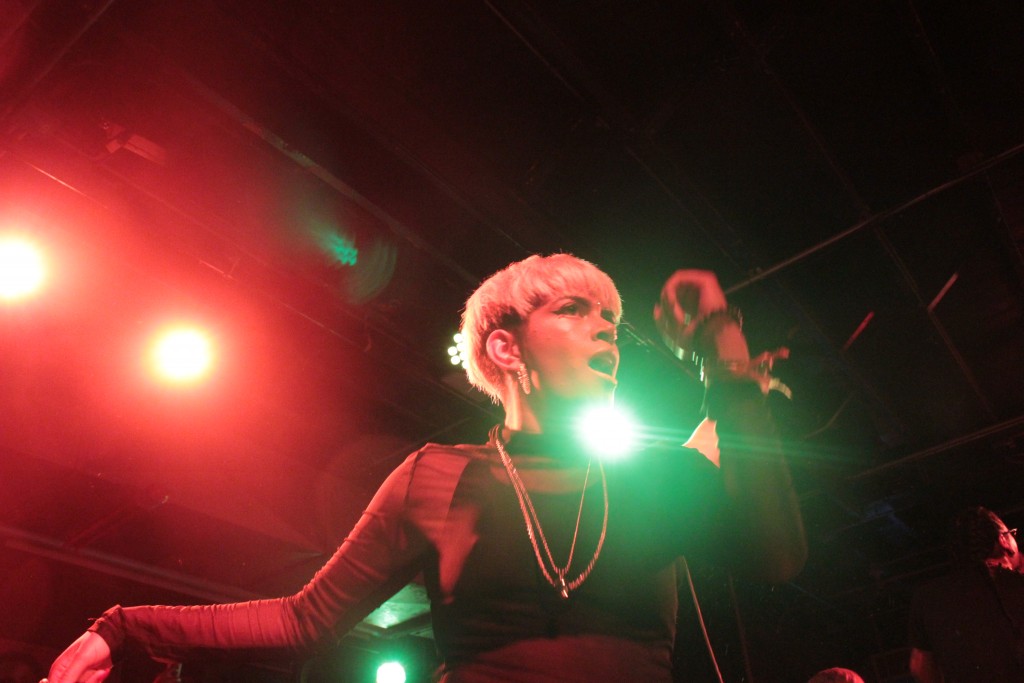 With two scheduled shows and a slate of guest appearances with other acts, Sled Island was Cartel Madras's debut to the world. At Commonwealth, the two rappers burst out onto stage with a bundle of energy, Eboshi sporting a huge fur coat that seemed to consume her small frame. Within moments the crowd was bouncing along to the beat, hands in the air. The two are not only great rappers, but transcendental performers. At one point Eboshi produced a bottle of vodka, passing it around the front row and encouraging them to "slurp up!" Later on, the crowd chanting along to lines like "All them boys got whiskey dick / So Imma keep fucking chicks." And alongside the incredible hype, there was also lyricism, as the group's verses address feminism, queerness and Indian heritage.
So often at festivals like this, bands come and go without taking time to revel in the music around them. But I ran in Cartel Madras several times throughout the week, always at the front of the crowd, giving every ounce of support to the artists on stage.
Besides the opening night set, Cartel Madras made several other on-stage appearances throughout the festival. Notably, the hopped up for a few tracks with Vancouver's own Snotty Nose Rez Kids (nominated for the 2018 Polaris Music Prize), who were opening for 2017 Polaris Music Prize-winner Lido Pimienta. Later they revealed that Pimienta had invited them to Toronto to spend time with her. When Lido knows you're good, you're good.
Stay tuned for their three-part mixtape dropping this summer and get ready to join the cartel.
Myst Milano (Toronto):
Opening for Thundercat is no easy task. The acclaimed music mastermind has worked alongside everyone from Kendrick Lamar to Childish Gambino and he can rip a cool 45 minutes straight on his electric bass like it's nothing. Pair that with the Palace Theatre — by far Sled's most unforgiving and largest venue — and you have a mountain to climb as a new and emerging artist.
And when a friend told me I had to make sure I caught the opener for the highly anticipated Thundercat show, I was skeptical at first. What kind of person can live up to that hype? Well, if anyone was up to the task, it's Toronto-based rapper and producer Myst Milano. She brought the house down with a fast-paced, personal and fun set that had the whole crowd dancing.
Milano produces and mixes all of her own tracks, and there's a calculated ease in how she approaches the computer and drum machine that accompany her on stage. She layers her vocals over a variety of drum and electronic beats, weaving the components together to create a vivid musical experience.
The highlight of the set came when Milano pulled an audience member on stage with her to dance to "Perfect." While at most shows this will result in the audience member uncomfortably bobbing along to the track, that was not the case here — this guy came to play. Through a combination of vogueing, twerking and other body undulations, he surprised and delighted not only the crowd, but Milano herself. Watching her try to rap while containing the pure glee was a show in and of itself.
Milano's set was the perfect segue to what became one Sled's funkiest night. I can't wait to see her headline her own show.
Glaux (Calgary):
One of the best-curated shows of this year's festival came on its final night with the Femme Wave showcase at Dickens Pub. Featuring a headlining turn by power pop punk super-team Cherry Glazerr, as well as support from sweet-as-heck Peach Kelli Pop and Vancouver pals BB, the sold-out show did not disappoint. But it was opener Glaux that came as my pleasant surprise of the evening.
Pronounced "glow," the trio brought a comfortable vibe to the dark Dickens basement. Playing through persistent sound issues is never easy, but Glaux did not let it sway them. As vocals cut in and out, the group powered on, making the best of what they could with what they had. Looking like they just stepped out of their mom's garage — but in, like, a good way — they brought a breezy ease to the stage. Their tunes were simple, but catchy and a great way to ease into what would be a long, heavy show.
Glaux provided the perfect backdrop to getting a few beers and pizza at the bar, settling down at a pool table and mentally preparing for the night ahead. That's best you can hope for in an opener to a four-act show, and they performed admirably. If you're looking for pleasant tunes for a house party with friends, Glaux has got you covered.