Here are a few names to jog your memory: Malcolm Jack, Malcolm Biddle, Sun Wizard, Capitol 6, and  Dada Plan. Over the past decade he has developed a reputation for reinvention, collaboration and experimentation in everything from folk to jazzy psychedelic. For our interview, Malcolm invited me to his home to hang out and hear some new recordings, and naturally, I had no idea what to expect. Two hours later, I left his apartment filled with aspirations of trying out some new guitar tunings. It might seem a bit irresponsible, but I didn't write anything down while we talked. To make the words permanent between quotation marks would have been to miss the point entirely.
After a warm welcome I was whisked into his living room, which was adorned with a couple of Roberts tape machines, shelves packed with records, and a worn Persian rug. This is where the Tascam 388 analog recording console that has served as the centre of his studio since Dada Plan's The Madness Hides now resides in a small closet.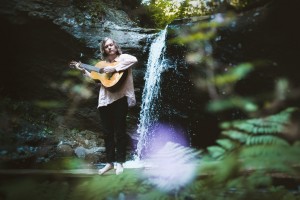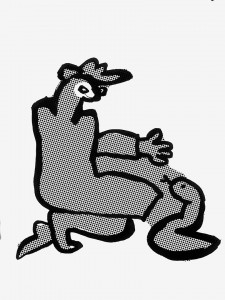 There was just enough room for the two of us to squeeze into the gear-filled space. I couldn't make out everything Malcolm was saying when I put the headphones on, but I watched intently as he whizzed around the console while acoustic guitars and percussion flew in and out of the composition. For these new songs, a trio of Malcolm, Dada Plan bassist Colin Cowan, and Sick Boss drummer Dan Gaucher retreated to Galiano Island to record. Malcolm slid a fader and the sound of lush rainfall began — this is the field recording from which his upcoming album derives its name: Wide Rain.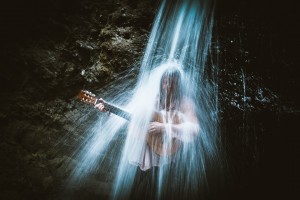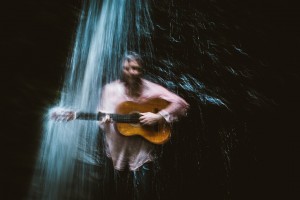 A flute had materialized in Malcolm's hands and he turned on the microphone in front of us — it was then that I could hear him properly. He told me he'd been learning to play the flute. I said "cool," hearing my own voice with a gentle reverb.
Over the past few years the Vancouver native has recorded out of a shed behind The Lido, where he also played the role of producer (and often Eno-esque creative partner) on records including Colin Cowan's Spring Myths and Kim Gray's Perfume. To my delight, Malcolm explained the technical workings of the studio, getting me turning dials and even manipulating tape. It's easy to see how this plays into his aesthetic as a producer.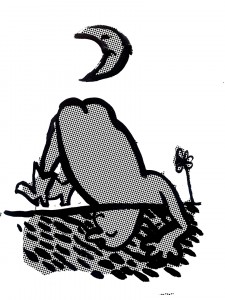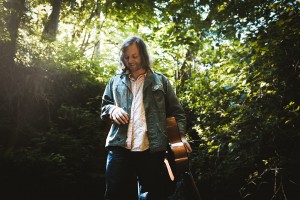 He recounted a session for Johnny de Courcy's Master Manipulator to describe how the analog workflow shapes his output. Want delay on the chorus vocal? Dial it in at just the right time. Make a mistake? Better try it again. Analog recording is a performance in and of itself, it provides limitations, it forces you to be good at your instrument, and it keeps you from endlessly fussing.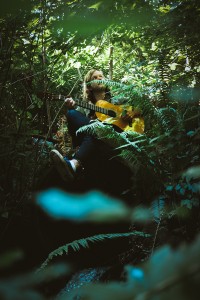 We moved to the living room couch and the conversation turned introspective as he cued up another new track on a Roberts machine. Malcolm's creative philosophy makes little distinction between the way he wants to create and perform music and the way he wants to live his life. There's something of that '70s easygoing Laurel Canyon spirit in his reflections. He's searching for pastoral perfection, where he can tour and record all while his creativity is informed by his experiences. He told me there are still a few missing pieces though, and while he circled around the idea, he didn't quite come to it.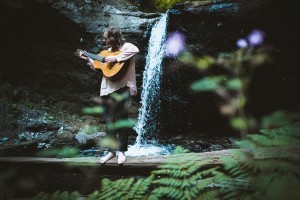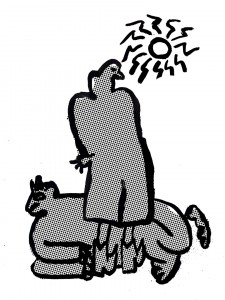 His new record as Malcolm Jack comes after last year's Inner Circles, which provided acoustic folk meditations drifting in and out of twenty-seven minutes of continued new age ambience. Wide Rain will be more song-based, but don't let that suggest convention. The sonic palette is filled with overlapping tape loops and field recordings. I asked him what he's been listening to lately, and he cited a list of open-tuned guitar masters: Bert Jansch, John Renbourn and John Fahey.  
For Malcolm, this seems the start of a new creative era. He wants music left to develop in the moment, even by chance. Maybe the song will swell at the chorus, but maybe not. If he doesn't feel like singing a verse, he could skip it. The sound is free spirited, uncontrived, flowing from whatever he's feeling. For the listener, the composition is left undefined, ephemeral, like wind blowing through a set of chimes.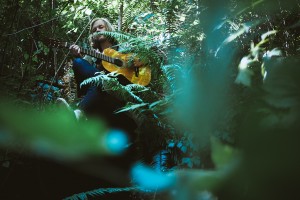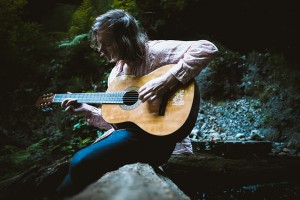 I caught a glimpse of this last summer when Dada Plan headlined the Smithers Midsummer Music Festival. The psychedelic 4-piece left their recorded songs behind and performed something entirely new. Malcolm didn't even have a real guitar, instead playing loops, pedals and a homemade oil can guitar over extended hypnotic grooves of congas, sax, and Juno synth. Legend has it Can vocalist Malcolm Mooney went insane when he got "caught in a Can groove," and I believe it.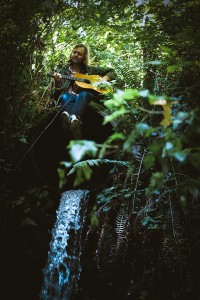 I descended Malcolm's stairs to leave thinking about my own creative aspirations and everything I could take away from our conversation. I kept ruminating on an offhand comment Malcolm made about his studio setup being "a long time in the making." I think anything that's really good needs a long time — time for connections to be made, experiences to be had, and time to have boundaries explored, pushed and refined. That's what it's all about for Malcolm. The free-and-easy outsider spirit that was present in our conversation was imbued in everything I heard from the spinning reels.
x
The tentatively titled Wide Rain will be available this coming Fall.