My first thoughts were 'where has this place been!?' It's the kind of idea I wish I had, and I'm immediately glad that someone made it happen. I first heard about Liquidation World through instagram — the name intrigued me, triggering memories of shopping in the big discount box-store growing up. At first it was a bit unclear to me what this Liquidation World was, but luckily their slogan is very straight-to-the-point, "we take everything and everything must go!"
One of their instagram videos procraims, "If it's just sitting in your studio locked away it's not doing any good to anyone. Bring it down to Liquidation World, where we turn your art into cold hard cash!'' Could it be true? An accessible, DIY art consignment, event and gallery space in Vancouver? Turns out it was, and their accessible approach is really what made the place so cool. Truly anyone was invited to bring in the fruit of their artistic labour — regardless of form — to sell in the shop for very reasonable commission rates.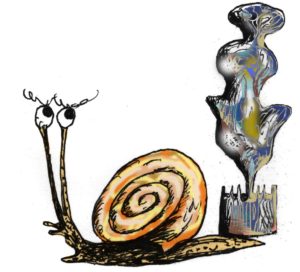 When facilitators Katayoon Yousefbigloo, Maya Beaudry and Dave Biddle decided to take on the space, it wasn't clear what it would be. They were offered a three-month sublet back in May under the conditions that bulldozers were coming for the building at the end of July, making the space affordable enough to experiment with. 'Going into this project with 'no vibe' was the most important thing', said Yousefbigloo, describing the group's otherwise very open expectations for Liquidation World. The only real intention was to create an opportunity for the art community to shape the space into whatever felt needed. "It started out as a low-stakes space where anyone could show work they've been making in isolation over the past couple of years," Yousefbigloo explained, but it soon turned into a self-sustaining model where both members of the public and participating artists were buying and selling work of all kinds.
Walking  into Liquidation World, the wide array of work is immediately notable. Part gift shop, part gallery, part community hang out  — a large comfy couch invites you to hang out a while. It almost felt like a community garage sale, with a few straightforward policies. You would walk in and see everything from work for sale by artists also exhibiting at the Vancouver Art Gallery, to C.U.M (cool underground music) shirts, to hand beaded daisy chains and four foot tall wooden sculptures. The storefront swirled in a kaleidoscope of playful colours, shapes and forms.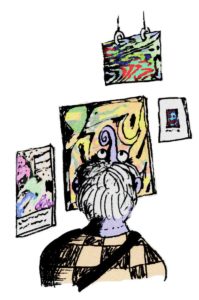 Alongside the notable diversity of work, the gap between 'high brow' and 'craft' were beautifully blurred. One of the artists with work for sale was a grade 10 student. This cross-exposure is something that Yousefbigloo says they were proud to facilitate. Providing a space where both practicing, and entry-level artists, can co exist in a nonacademic setting is a gap that the organizers feel needs to be addressed. Liquidation World contributes to the fostering of alternative learning and education systems that aren't always apparent in Vancovuer's insular art community — one that is often about professionalization rather than community building.
The trio behind Liquidation World are no strangers to community organizing and DIY art spaces. In 2012, along with a group of fellow recent Emily Carr graduates, Maya Beaudry initiated the studio/gallery space Sunset Terrace. Though Beaudry has since moved on to other projects, Sunset Terrace still actively houses a handful of artists' studios in the original location. Both Katayoon Yousefbigloo and Dave Biddle have their feet in multiple projects that intersect with Vancouver's art and music scene. Yousefbigloo is maybe best known as the frontwoman of local band Puzzlehead, and Biddle for ©Linda Fox. Both have respective intermedia art practices so it is no wonder then, with all the gumption involved, that in three short months they have pulled off a wildly successful storefront, put on four exhibitions, hosted a performance event in collaboration with Ballet BC and wind-down community BBQ for everyone who liquidated their goods.
Of course, part of this success comes with the space's excellent timing given that COVID restrictions and infection risks are finally at a lesser severity in 'Vancouver'. Also, going viral on TikTok really didn't hurt. "Teens were coming in from the surrounding suburbs to check out the store front, a couple from Hope even came in to check out the store," said Yousefbigloo.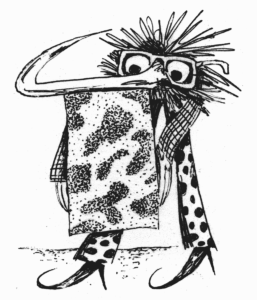 For many who attended (myself included) the opening of Connect, Mention, Rückenfigur, a group show curated by Marisa Kriangwiwat Holmes, was the first public art reception they had been to since 2019. There is no doubt we've been missing these kinds of opportunities to gather, but Liquidation World has also given us a much needed platform to show how creative we've been in the interim, while allowing artists to sell their work for a profit. In two months the storefront paid out over $12,000 to the artists involved. The rest went to rent.
The question now is: where will we liquidate next? Many DIY pop-ups have come and gone, but Liquidation World is keen to thrive off of the impermanence of Vancouver's real-estate reality. In their e-newsletter LIQUID TIMES, the organizers have spoken of their commitment to finding another location and have already begun scheming up the next iteration of the project. In the meantime, you can subscribe to their mailing list for future e-blasts, or contact the organizers if you know of any short or longer-term warehouses, haunted houses, rich person's foyers etc. that might be the perfect spot for a venue that takes everything, and where everything MUST go.