Everyone expects a drag show to be at least a little "out there," but not many people are prepared to be greeted by a very tall human figure in a bright green morphsuit with padded hips wearing a Barbie one-piece. And that is what defines Commercial Drag: a show for anyone and everyone, including aliens.
Commercial Drag happens every Sunday night at The London Pub in Chinatown. Each week there is a new theme, new guests, but at every show, performers are challenging the boundaries of what it means to do drag. This is a safe space where drag doesn't conform to stereotypes and gender fluidity is a staple.
Commercial Drag started as a monthly show in Kitsilano called Sleepy Girls. In the words of the show's founder and host, Dust, "it was always a place we could always be a little more vulnerable with our drag, and with the way we presented ourselves. It was an opportunity for us to be more genuine with our audience, and it evolved and became this weekly monster. And the weekly monster attracted groups of drag performers who wanted to work together." After one year of Sleepy Girls, Commercial Drag was established in February 2018. It has featured a number of debuts, as well as long-time performers.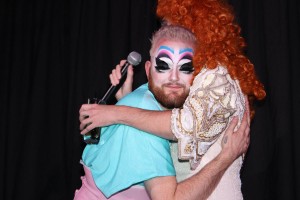 Arriving at the venue may seem a little strange at first, as unlike most drag shows, the audience is greeted by the performers already in drag. Dust explains that one of their goals with Commercial Drag is to take some of the aspects they didn't enjoy about drag shows, and turn them around: "An example would be that in drag shows elsewhere, before the show, the music would be really, really loud. So, I couldn't really talk to my friends, and what I wanted to do [at Commercial Drag] was to have people connect with each other. That's why my show says dinner at 8:00 [and] show at 9:30, to give people a chance to come in early and interact with each other in a setting that has low music. And then, there's the [portion] that is just the show." Indeed, many audience members are not new to Commercial Drag, and the show is a weekly gathering of friends.
At the show on August 12, the theme was "Ugly Drag in Space," and contrary to most nights, Dust was not the host, giving the spotlight to their drag-daughter, Anne Xiety. Ugly Drag is a theme done once per month that attempts to take the pressure off perfection. There is no ideal makeup, no training required. It's an open space for drag expression in whatever form it takes. According to Dust, it is a night to have ridiculous amounts of fun. Although the atmosphere at The London Pub was light for "Ugly Drag in Space," there was some anticipation about what was to come, and no one was disappointed.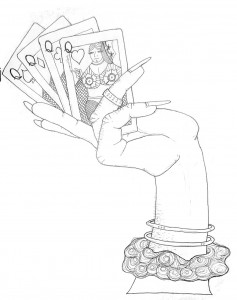 The show started on a hilarious note with Anne Xiety attempting to take sips of her drink through the morphsuit. Throughout the night, her attempts became more and more ridiculous between sets. The first on stage was Scout Supernova doing an Alien-inspired cat and mouse lip-sync routine that ended with silly string sprayed everywhere. The act was followed up with breakdancing drag king, Owen. Brunch, a Brazilian drag queen with a beard who debuted at Commercial Drag four months prior, had a Born This Way meets American Horror Story feel to her performance, which ended with her biting into Tommi Horror's neck and spilling fake blood all over the stage. Annita D's performance was more subtle, with an onstage costume change and a perfect lip sync to a mash-up of music with Star Trek excerpts. Amazing performances followed amazing performances, however, the highlight of the night was Awesome Bitch's Commercial Drag debut. She was dressed in a custom pink caped pantsuit and made it rain fake money with her face printed on it.
"Ugly Drag in Space" was Dust's first show as an audience member. Although they had mixed feelings about not being on stage — "holding the audience," as they put it — they plan on carrying their new perspective into future shows: "Feeling the energy of the audience and experiencing what the audience experiences is going to be so powerful for me because I'm always up on stage and I just always make the assumption that we are all having a good time and that everything is good. But, I think that there are little things that can make the experience better for the audience and I'm excited to bring back what I observed."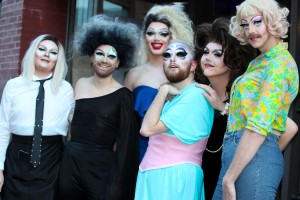 In one word, Commercial Drag is unique. It is a community beyond drag that brings together people from diverse backgrounds. It is the ethos of the show, Dust's own words leave a powerful resonance:  
"Our show is a place where everyone can do drag. We have non-binary people, genderqueer people, bisexuals, women identifying people, we have gay men being women, we have women being men, everything. All of drag collides, we have such a diversity at Commercial Drag, and that is something that I really, really push. It's very important and dear to my heart because the world is not black and white. It is a mosaic, and that is what created our country and that is what is going to make our future. I really view Commercial Drag as a place that anyone can feel welcome."
And, indeed, it's hard not to feel welcome in a place you know you can be anything you want to be.
x
Commercial Drag happens every Sunday at The London Pub, just $5 entry. Follow Sleepy Girls Productions on Facebook for updates and upcoming themes, and Instagram @commercialdrag.