It's unlikely that many people in this world are capable of name-dropping President Gerald Ford, Tommy Chong and Lil Yachty all in the span of a single conversation, but there is one person that can tie the bunch together. Nardwuar the Human Serviette emerged from CiTR in 1987, and has indisputably become the station's most recognizable and notorious figure in that time. The Hip Flip, Courtney Love, pepper-on-my-plate, endless repetitions of "How do you know that!?" — there's a good chance if you're reading this that one (if not all) of those references is immediately recognizable; there's a good chance that somewhere across the last 30 years, you too have become indoctrinated into Nardwuar's cult of personality.
Sitting in a corner DJ booth at CiTR 101.9FM before his weekly show, Nardwuar displays trademark optimism towards his 30th anniversary at the station.
"It feels like a new beginning. It doesn't feel like another anniversary," he says, pointing out towards the open atrium of UBC's Student Nest. "It's kind of weird in the sense that we're in a new location, and I love the location that we're in. It's amazing! Anybody can look in and say 'Oh, who's that? Oh, it's that Nardwuar guy. I can be a DJ too!'"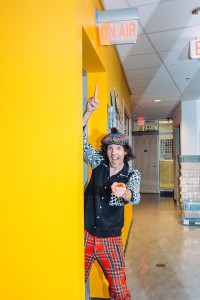 Despite three decades of broadcast experience, Nardwuar is earnest in seeing no difference between himself and a total beginner, candidly arguing that he, the man that has interviewed everyone from James Brown to Mikhail Gorbachev, is in a constant state of improvement and education. It's the image of a nervous freshman walking into the station for the first time that gets him the most excited.
"It's good to be scared," he says. "That's kind of my mantra. When a person comes into CiTR and says, 'Oh my God, I'm scared,' that's good, because it shows you care. It shows that you'll strive to do good."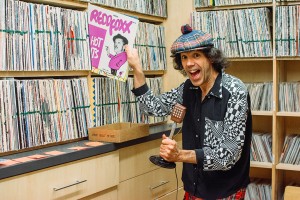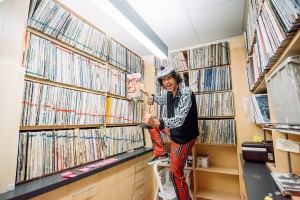 This isn't the first time that Nardwuar has marked a milestone, either. 1998 was his first, lauding 11 years at CiTR, and his 20th anniversary in 2007 saw him on the air for 20 hours straight before playing a celebratory gig with The Evaporators — a tradition he's carrying out again this month. From punk rock legends to conspiracy theorists, former Prime Ministers to rising rap stars, Nardwuar has combed through what seems like an unending collection of interviews and past shows for nearly a full day's worth of content beginning September 21 at 9PM.
"There will be some political stuff, there will be some early CiTR stuff, there won't be any cheese metal, and of course there's going to be a lot of Snoop […] But it's hard to whittle it down!" he exclaims.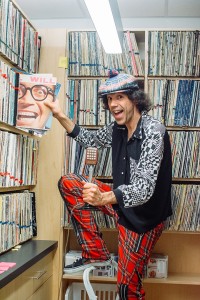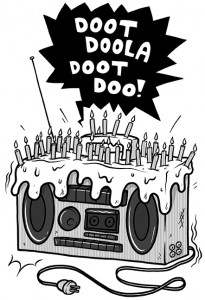 Nardwuar's list goes on, from a tumultuous interview with Paul Gallagher (the forgotten older brother of Noel and Liam), to his internal debate over including Johnny Rotten of The Sex Pistols and not Mick Jones of The Clash. He's also quick to point out that he's not alone in remaining at CiTR for so long, citing shows like The Jazz Show, Saturday Edge, Powerchord, Aural Tentacles and Rockers Show that have been on the air even longer than he has.
"I'd love to think that I'm unique in sticking around, but I guess I'm not," he laughs. "We just love music! I love the chance to play whatever I want to play to the people out there in radio-land, and to expose people to new kinds of music."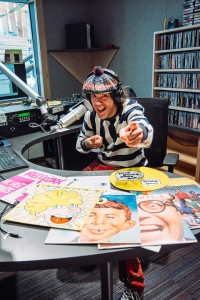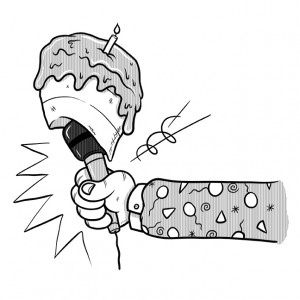 As for The Evaporators' live show, Nardwuar isn't shy when it comes to discussing the difficulties of producing and organizing an all-ages event.
"It's a lot of work to put on an all-ages gig, as it always has been," he states. "You have to rent the hall, you have to rent a PA, you have to get insurance, you have to pay the bands — and the whole thing will be over by 11PM, which is when most people go out!"
But ensuring that anyone can attend his shows is something that Nardwuar has been adamant about since his very first production in August 1987 titled "Barbarella Psychedella." He has always had a flare for throwing memorable events, such as another event from 1987 that was a bizarre Christmas party themed around the 50th anniversary of Amelia Earhart's disappearance, and the proposition of her return. This year's 30th Anniversary Show adds another layer of sentimentality, too, with a father-daughter connection between opening act Owl Empire and The Evaporators' drummer, Nick Thomas.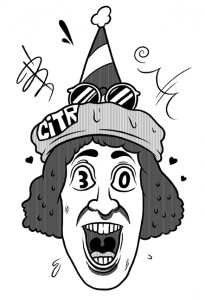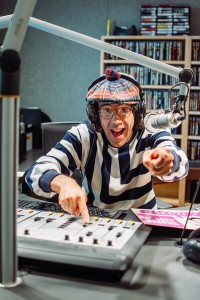 It's that sense of community-building and communal exploration that seems to drive Nardwuar 30 years on. His commitment to continuously hosting all-ages events, instead of more convenient and more lucrative no-minors shows, is indicative of this. It's expressed, too, in his consistent belief that he's no more qualified or more capable than anyone else willing to pick up a microphone and get on the radio.
"If I can do it, anybody can — that's what I want to get across," he says. "I am not unique. You can be Nardwuar! You can be a DJ for many years at CiTR."
Sure, it's a bit of a stretch for the man who sports a tartan hat 365 days a year to say he isn't unique, but here's hoping his boundless enthusiasm, tenacity, and downright zaniness carries Nardwuar through another 30 years of outrageous broadcasting.
X
Tune into CiTR 101.9FM September 21 at 9PM to catch 20 hours of non-stop Nard, concluding during his regular radio timeslot Friday, September 22 3:30-5PM. Not enough for you? Then come down to The Hall (formerly known as Astorino's) on September 23 to see The Evaporators play with Owl Empire. The event will also feature a Video Vault of interview archives between sets.