"I thought it was kind of pretentious to go by my name," says Andrea Lukic, multi-disciplinary Vancouver artist and musician. "I don't know, it took the fun away from performing if I had to just be the regular me." So she became Hick.  
Sitting down with Discorder, Lukic discusses the dynamic nature of her experimental music project, and how she manages to maintain control over Hick despite extensive collaboration and a curse.
"I'll look for sounds that are otherworldly," explains Lukic. With Hick, she tries to create soundscapes that are eerily close to the world around us. "There's something off with everything there, but it still seems like it could be here. I like music that gives you that feeling."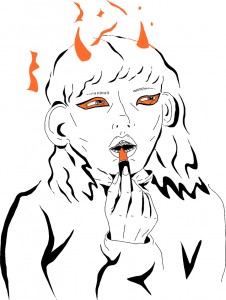 A year ago, having slowly tested out those otherworldly sounds in various live settings, Lukic recorded her first tape, Travelers, "in one day, sort of on a whim." With production and technical assistance from Sam Risser, of industrial electronic act Sunstroke Militia, Lukic laid down what seemed to her to be a perfect representation of what she wanted Hick to be.
"I was in the right place at the right time," says Lukic, "and I really went for it. I pushed myself vocally, almost to total absurdity. I was confident enough to make sounds that felt really humiliating to make, but sounded just right."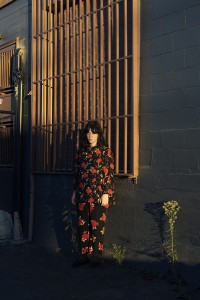 Being at ease with her voice while recording isn't something Lukic has always enjoyed. She explains, "It used to takes me a long time to record vocals. It's a hard stage to get through." Having sung and played bass in Nü Sensae, a Vancouver based grunge-punk band, Lukic admits that the pressure of recording took its toll on her well-being.
"I'd contract an illness every time," she says. "I'd go to the doctor, and they would tell me it was strep throat and that it was stress induced. My body would not let me record vocals." So, in a physical sense, the recording of Travelers was a feat, which made its loss all the more impactful. "It got corrupted in the transfer," explains Lukic. "I don't even know what that means, but that's what happened."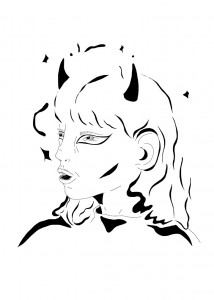 Ever since, Hick has been presented almost exclusively in the live setting, in a multitude of incarnations. With a revolving roster of musicians that join Lukic at Hick performances — including Morgan Cook of Sister Blanche, Claire Newton of Cave Girl, Katayoon Yousefbigloo of Tough Customer and Other Jesus, Chandra Melting Tallow of Mourning Coup, and Sam Risser, among others — the very nature of her project is altered depending on who is involved.
From ambient tape-loop based performances, to aggressive full band shows, Hick is practically a different band at every turn, and it's that unpredictability that keeps Lukic so engaged. "When you play with another person, you can kind of let go for a minute, and let them take the reins," she says. "They might take it somewhere you're not expecting — it's just this chain of chance and consequence that's a lot more interesting."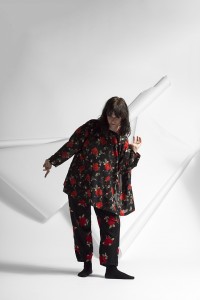 Despite Lukic herself being the only constant element within Hick, she admits that she can't maintain the project completely by herself. "I just don't think playing alone is that fun," she explains. "It's missing a component of music that makes music so special. The spontaneity isn't there — there's a disconnect for me." Lukic gives her last Hick performance as an example of the way in which the unexpected can alter and improve her experience.
"I played with Sam [Risser] and he was really drunk," she relates. "It was fine, but it definitely didn't go according to how we rehearsed it. I didn't know what was coming next, and it was so much more interesting to me. I was listening to it just as much as the audience was."
While she thrives off the collaborative energy of live performance, Lukic still uses her solitary time as a way to fuel her music. "I feel my visual art and music are pretty interconnected," she says. "The thing about drawing is that it takes so much alone time, so much time in your own head. You have to make music after, just to release some tension."
For Lukic, her visual and musical practices come from the same creative source, despite manifesting in different artistic products. "With drawing and music, it's all channeling the same information from the same place, just in a different way," she says. "For Hick, it's important to keep certain aspects of my drawing really present in the music — certain colours that control how you can receive my message."
And that control is integral for Lukic to maintain in Hick, despite the unpredictability of her live shows. "I thought it would be so satisfying to control every aspect of it," explains Lukic on why she started Hick. "And it is. It's just not that satisfying to play. I think the solution is to record by yourself, and find people you connect with to play with."
After a year of adapting after the loss of her tape, experimenting with lineup configurations, and walking the line between collaboration and solitary creation, Lukic is about to embark on another venture into the world of recording. "I thought about recreating the last record, but I don't see the point," she explains. "It was a very true and real expression, so it'll always be close. I'm just approaching it superstitiously this time. I feel a bit cursed."
X
Hick performs September 1 with John Wiese, Rusalka, Mass Marriage and Fracture at the Remington Gallery. For more info, visit thehick.bandcamp.com.