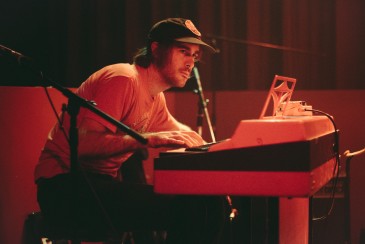 In the socio-political turbulence of the 1960s, challenging traditional ways of taking in information was often realized through an intake of mind altering substances. On August 1, a night of psychedelics similarly began inside the feverishly hot Fox Cabaret. Multiple-part harmonics, rippling reverb, winding jams, and tempo transformations themed the evening. At their best, the effective use of acid rock aesthetics offered blissful escapism; at their worst, they flickered briefly into a bad trip.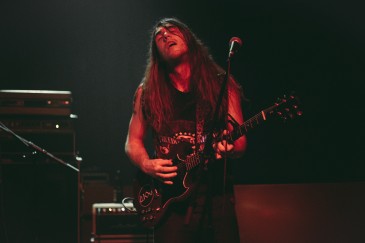 First up was Three Wolf Moon, a last-minute fill-in for local band Flyin'. The four-piece began unabashedly, amid some pre-determined disappointment from Flyin' fans. Weaving out a thick wall of sound, Three Wolf Moon's second tune, "Joe Walsh," stomped forward with jam band indulgence. Its various musical components were largely indecipherable, aside from an airy mist of synth keys.
Lead singer Adam Grant's vocals were mostly hidden in noise, which didn't appear detrimental to the instrument-heavy songs.
Preferring to shift tempo rather than start a fresh tune, Three Wolf Moon's four songs were prolonged numbers that probably could have been cut in half. An attribute of their stoner rock motif, their set's particular stimulus was swampier and less accessible than the two bands to follow.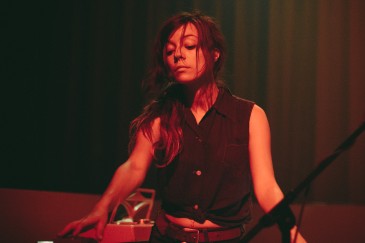 The guitar chords on "Utopian Canyon" fell against each other in chiming contact as Boston band Quilt began their set. Anna Rochinski's vocals were a soft offering and a winsome contrast with the tune's warbly guitar riff. As "Utopian Canyon"'s first chapter flipped into the next, it was clear Quilt would be continuing the tempo jumping motif established by Three Wolf Moon.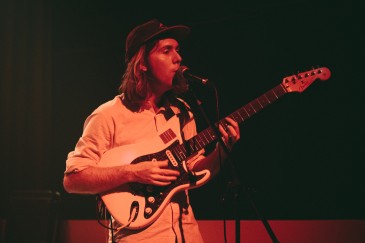 Playing "Arctic Shark" next, Quilt quickly demonstrated their aptitude for complex harmonics. In a three-part effort, Shane Butler and Keven Lareau's vocals spun a hazy platform for Rochinski's words to stand on top of. The song's soft-hued pigment turned pastel as Rochinski sang dreamily: "Everything regenerates as love."
Beneath the flowery purple and orange stage lights, "Milo" unrolled with a steady and simple melody. Rochinski and Butler repeated the chorus in synch as the song progressed evenly before being shaken into an incline. Like their namesake, Quilt's melody was a rearranging pattern of distinct patches interwoven.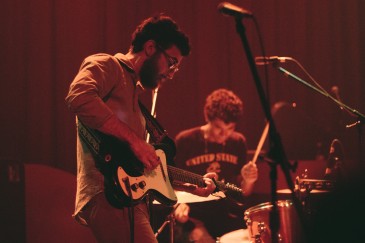 The crowd continued to perspire as Brooklyn five-piece Woods embarked on a tediously long soundcheck. Rewarding the wait, the band began with a cohesive rendition of "Leaves Like Glass." "Cali in a Cup" came soon after, followed by "Shining." Connected by a thin riff thread, the last notes of "Shining" lingered and morphed into the first droning chords of "Bend Beyond." The succession of tunes was seamlessly superimposed.
Guitarist Jarvis Taveniere's use of the delay pedal was another notable feature in the set's series of transitions. He routinely lapped surrealist ripples against even the most sober ballads. "It Ain't Easy," for example, was bookmarked by a distorted, echoing aesthetic.
When reverb and warble didn't dominate, guitar strings seemed to twang. Once eight miles high, Woods periodically took the audience down country trails. The meandering intro to "Shepherd" sounded like it had strayed from some far off, sun-filled porch.
The remainder of the set was more determinedly psychedelic. An alliance between lead singer Jeremy Earl's high falsetto and the luminary stringing of synth keys combined sweetly with the delayed, drugged-out guitar melodies on "Moving to the Left." As Woods performed their final, winding tune, they jammed, altered tempo, and distorted their own chords. "With Light and With Love" ended the set in a flawless delivery of multi-faceted psych rock, breaking what had become a very blissful trip.