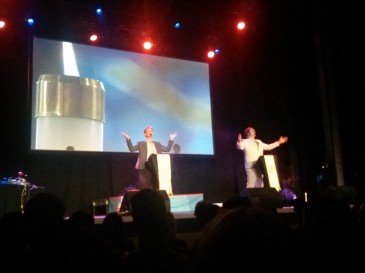 Every muscle flexes as your body attempts to shrivel into itself while your face contorts, trying to run away from whatever it is you just can't stop watching. This, my friends, is what a cringe is, and if you like the excruciatingly awkward I'm-not-sure-if-that-was-supposed-to-be-funny style of humour that makes a disgustingly amazing feeling creep all over you, then the Tim and Eric with Dr. Steve Brule show on September 7 at the would of been just the show for you, ya dingus!
Comedians Tim Heidecker and Eric Wareheim started out small with short Internet video comedy in the early 2000s, until landing television programs Tom Goes to the Mayor and Tim and Eric Awesome Show, Great Job! on Adult Swim. Other ventures include a plethora of Internet comedy sketches, music videos and advertisements directed by Wareheim, and other acting ventures in mainstream comedy by Heidecker. Their extremely unique and creative style, based in either the awkward or incredibly bizarre, offers a safe harbour of complete liberating insanity for other comedians to become involved in. It resulted in the creation of SAG award-winning actor John C. Reilly's incredibly offbeat and clueless public television personality, Dr. Steve Brule.
The night's show started out with opening act DJ Douggpound, a comedian/turntablist who utilized heavy music sampling and pre-recorded phrases to compliment his pun-centric jokes. At one point he purposely let a joke fall flat and subsequently played a recorded voice that claimed, "DJ Douggpound is feeling insecure after that joke's poor delivery!" The breakneck transitions from his DJ character to stand-up comedian personas really drove his act home, until he introduced the main event: two head honchos in their own right, Tim and Eric.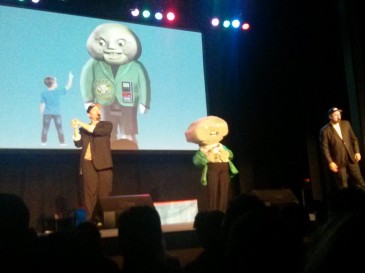 The duo emerged after a short video of themselves explained how they were going to do the entire show improvised in their overzealous and incredibly quirky characters, who came off as borderline — and often beyond — deranged. Shortly failing at that attempt, they left the stage claiming the audience would get our money back. Shortly after, they rushed back on stage to antagonize the audience, chiding on about how f***ing stupid we looked when they pranked us! The remainder of their time on stage consisted of intermittent bits featuring old characters from the show, delightfully cringe-worthy music breaks, and a screening of the first episode of their upcoming show, Tim and Eric's Bedtime Stories.
After a sketch involving the duo holding a sermon for a completely fabricated cult in the style of a television worship show, Dr. Steve Brule made his bumbling entrance and hopped into his routine. It was truly a special treat to watch a respected, Academy Award nominated actor bring a random audience member to the stage to perform an improvised song about how he missed his mom. To bring on a fantastic conclusion, a dance number ensued where Heidecker and Wareheim passionately kissed while  Dr. Steve Brule brought a second randomly chosen audience member to the stage and asked her to marry him, to which she complied and an impromptu wedding occured. Although this show was by no means for everyone, the unmatched energy, uncomfortable daddy issue jokes, and insanity that was displayed proves they are some of the most creative lunatics in the world of alternative comedy.