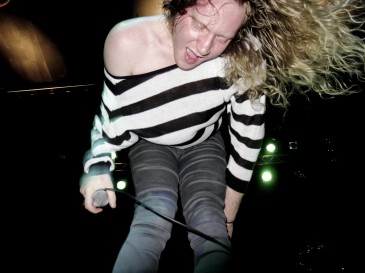 Based solely on the strength of their 2012 debut Remember When, I ventured into the Rickshaw with an open mind and a clean slate to see young Chicagoans The Orwells play alongside NYC openers SKATERS. The little I knew pointed towards the show being at least a little antagonistic, but I probably should have done my homework a little more thoroughly.
Openers SKATERS started off on a high note with loud, raucous garage rock, but their set quickly started going downhill – by the end of their half hour allotment, they were digging themselves a six-foot grave. Big, guitar-driven Wavves-lite was the only time that SKATERS stayed coherent — but the band didn't seem terribly interested in forming a cohesive performance.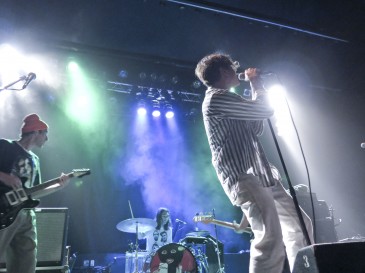 Everyone not rooted to a drum kit floundered over the stage like high teenagers scrabbling for attention, including frontman Michael Cummings, whose antics, maybe partially inspired by Les Savy Fav, were so inane as to be embarrassing. Dressed and strutting like adolescent Urban Outfitters models, it was hard to take anything the band did seriously — least of all their music — as Cummings oozed self-absorbed sneering. Between extremely off-colour ramblings about smoking crack in the Rickshaw's alley in the heart of the DTES, and the most ill-advised ska song of all time, the only thing of even remotely redeeming value was a smart cover of New Zealand band The Clean's "Tally Ho!," where the band substituted the cheery organ for punk guitar leads.
The Orwells, unfortunately, were a little bit more of the same. On tour to support their most recent release, Disgraceland, the band mainly stuck to material off their new album, which was a bit of a tough pill to swallow. The Orwells are at their best at their absolute scuzziest — distorted, destroyed vocals, incomprehensible guitar noise, and drums tinny and unforgivable.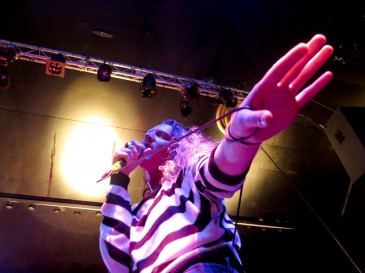 Instead of the no-fi punks I was expecting, the crowd at the Rickshaw got a pretty grungy collection of songs played relatively straight, of all things. Singer Mario Cuomo looked, and sounded, like a teenaged Cobain, with tied-back blonde locks and the most ridiculous shoulder-bearing sweater seen since 1993. The band was obviously uncomfortable on such a big stage, and it's seriously unfortunate they couldn't have played somewhere smaller and dirtier.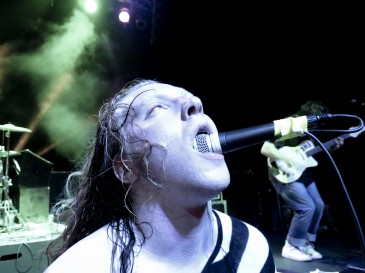 Mid-set's "Mallrats (La La La)" was the obvious highlight of their performance, played just bratty enough to get the crowd's drunk-university-student demographic bouncing and yelling, but it wasn't enough to save the Orwells from having a largely blasé performance. The night was a reminder that, even if a band full of teenagers manages to put out good, or even great, material, you still might have to put up with them acting like… teenagers.