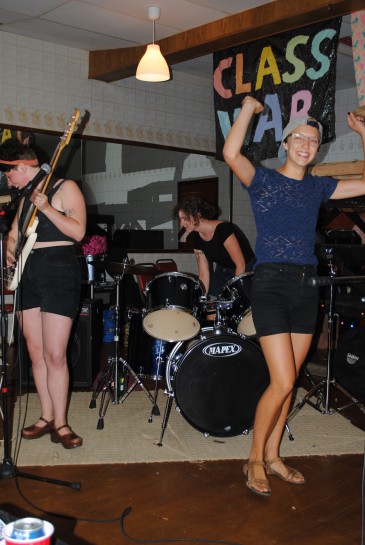 This year's Shout Back! Festival—an all-ages "anti-capitalist, diy, feminist, punk festival […] created by and for gay, trans, queer, people of colour, indigenous and/or women artists"—kicked off on the Drive late last week. With its impressive roster of punk bands, provocative workshops, and a bustling anarchist book fair to boot—all executed with an admirable commitment to accessibility, anti-appropriation, and the provision of safe spaces—Shout Back! gave attendees plenty of reasons to raise their fists against systemic patriarchy.
Toilet Heart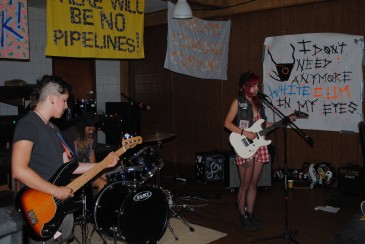 Saturday morning at Astorino's, SafeAmp's humble haven on the corner of Commercial and Venables, kicked off with Vancouver's own Toilet Heart. With Asher on bass, Chelsea on drums, and Kristin belting out songs from behind her guitar, these young punks played hard and fast, singing songs about conformity, dumpster diving, and sleeping on the street. Give these folks a grunge pedal and a chance to tighten their transitions, and they'll be inciting mass mosh-steria in no time.
Suggested track: Garbage for Dinner
---
She Dreams In Colour
Next, Surrey's She Dreams In Colour took the stage. Now, full disclosure before I gush about how awesome these 15-year-old girls are: one of the event organizers, Nikki, gave them high praise when I asked which bands to look out for before the show. When I asked why, she left me with an enticing "… you'll see. They're just, so special."
Special doesn't come close. With Devyn's running bass lines and charismatic singing, Emma's flawless and complex rhythm on the drums (not to mention her mischievous shit-disturbing grin), and Ashleigh's magic fingers absolutely shredding her sunburst Goddess Les Paul's fretboard, I was left with the distinct feeling that this band's days are just beginning. Keep an eye on their website and Facebook page to catch one of their upcoming shows!
Suggested track: Aftermath
---
Gummy Bear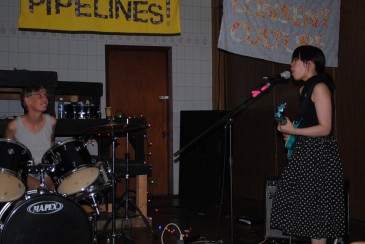 Gummy Bear came next, featuring Ritsuko on guitar and Tracey on drums. The clean reverb ringing out from Ritsuko's turquoise electric gave their set a '50s rock vibe while her lyrics, which touched on the international, sang a sweet "live and let live" message. Although this was their first show together, and Ritsuko's second ever live performance (her first being at last year's Shout Back!), the crowd received the tunes warmly, reinforcing the festival's receptive and encouraging vibe.
---
Seaside Tryst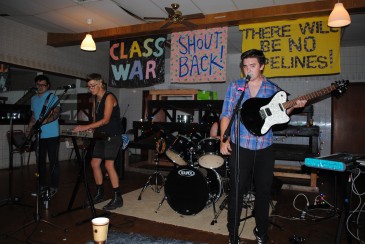 The tone shifted in the room as Seattle's Seaside Tryst finished setting up their gear. With Pants on keyboard, Ryan on the bass, Jesse on drums, and Avery jumping between guitar, a second keyboard, a computer, and an electronic drum pad, the crew got attendees up and shaking their butts to the group's airy electronic dance beats.
Suggested track: Captive
---
Katie and the Lichen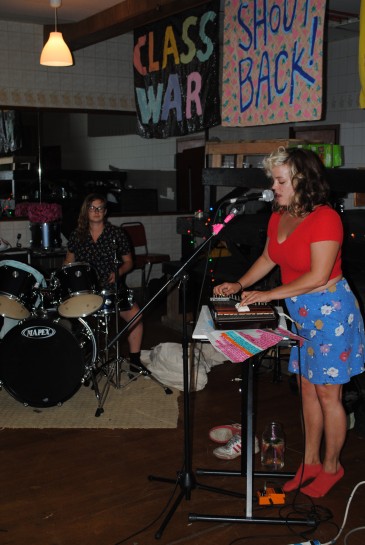 Freshly roused and eagerly awaiting more, the crowd gave a warm welcome to local duo Katie and the Lichen's summery tunes. With Cera on drums and keyboard, and Katie singing from behind her autoharp and ukelele, these two delivered a handful of beautiful, bright songs that brought Joanna Newsom to mind—particularly when Katie leaped for the high notes.
Suggested track: Don't Shave
---
Celibacy Now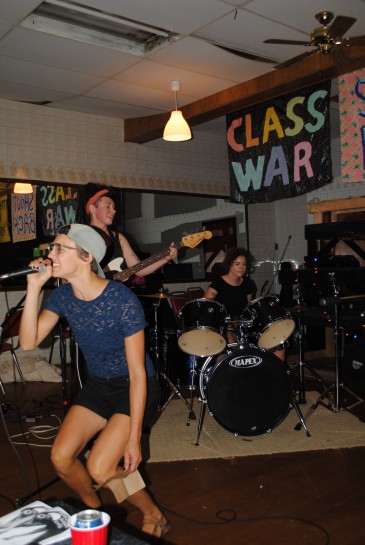 The last set of the afternoon gave onlookers another little gem from Seattle, this time in the take-no-prisoners, straight-up-punk outfit Celibacy Now. With Ashley on bass, Corey on drums, and Ann alternating between guitar, saxophone and vocals, this band belted out no-bullshit, anti-patriarchal lyrics ("If you don't think I'm cute—FUCK YOU!") set to a caustic and dark tone. They even had a small, single-page folded zine that laid out their 'manifesta' in very clear terms that resonated strongly with the festival's tone.
---
And just like that, Shout Back!'s Saturday afternoon set drew to a close, leaving the band members, audience, and organizers free to grab some lunch and to check out the festival's book fair and workshops just down the street.
Stay tuned for more festival recaps throughout the week as we share the IPOC showcase (by and for Indigenous people and people of colour), the finale, and more!