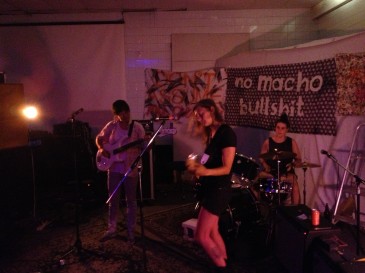 After three days of workshops, anarchist bookfairs, rad shows, and overall coming-togetherness, this year's Shout Back! came to its inevitable end with a kick-ass finale that closed the festival in style.
Spirits were still high and though not every band provided the right soundtrack to get attendees moving, you wouldn't have guessed that most of the audience at Rainbow Connection had spent the better part of a weekend already taking in as much of the festival as possible.
Following a recent trend that has local showgoers divided, all of the Shout Back! showcases focussed on short, more condensed sets for each band rather than fewer, longer ones, meaning the finale felt more like listening to a mixed CD with a couple tracks from each artist on it rather than your typical Vancouver show. Generally, the more bands on a bill, the more behind schedule a show runs, but the crew and artists did an amazing job respecting the time constraints on this night.
The first of the day's 13-act lineup was Purple! Pink!, a punk three-piece who treated the set like an episode of Sesame Street, encouraging audience members to repeat after them as they covered topics such as "things to do when you're by yourself." Later in the performance, a stack of recipe cards with the phrase "Scared to wake up watched" was passed around along with a bin full of snorkel goggles that had been painted over so you couldn't see through. The audience engagement was impressive and the performance meant well, but I noticed those around me were more confused with the props than anything.
Next up were new-wave rockers Underpass. Given their Bandcamp, I initially likened them to a more tranquil Joy Division, but singer/guitarist Alex Miranda's vocals proved to be a commanding force live. Though Miranda later told me they hadn't been playing with their usual gear, Underpass' set was, while arguably more standard than many of the day's performances, a personal highlight. Before I knew it, Miranda announced it was their final song and the four members dove into what would be their fastest and loudest of the short set.
Following Underpass was Bro Crusher, who played your standard crust-punk hardcore songs with enough drive and conviction to cause the first visible mosh pit of the night to bubble in the crowd, though it never fully-developed past its infancy.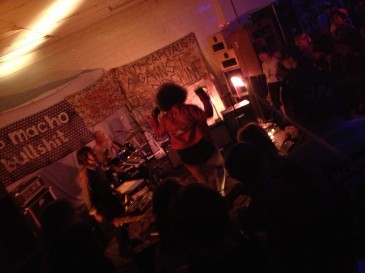 Madonna. (pronounced Madonna period), who started their set as a drums/synth duo, and were later joined by a vocalist, combined the best elements of dance and punk rock with strained but stretched vocals. It's unfortunate to hear that Madonna. was a one-time band, however, as their singer's unabashed explorations into the crowd—unafraid to press up against audience members or pelvic thrust the floor—made for an entertaining set. An unofficial theme for the night seemed to be including at least one cover in each band's set and Madonna. knocked it out of the park with a rock rendition of The Cardigans' "Lovefool," which was borderline unrecognizable until the infamous chorus: "Love me, love me / Say that you love me."
At any given time throughout the night—aside from between sets, during which bodies poured outside to inhale a cigarette along with some fresh air—the venue was packed and sweaty. But those adjectives seemed to escalate by the time Hard Bitch took over Rainbow Connection. Collaborative vocals helped guide the punk hardcore group to a crowd-pleasing set, conjuring the second mini-mosh pit of the evening. Filling their cover song quota, Hard Bitch noted they were reclaiming a song's meaning to be about being gay before doing overwhelming justice to The Replacements' "We're Comin' Out," ending in a band/audience clap that went full throttle for the last 30 seconds.
Hailing "all the way from First and Commercial," Smear Lord continued the trend of fast-paced hardcore bands, despite a couple of hiccups throughout the set, including two false starts of "Farm Fresh." While there were many songs throughout the festival that could encapsulate what Shout Back! represents, Smear Lord's closing number, "Consent," was as perfect a representative as any: a song about the importance of consent—getting it and respecting it.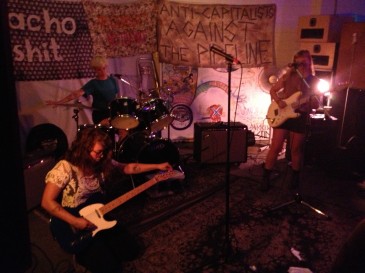 The last act of the night I managed to document was also one of the festival's most hyped: Margy Pepper from Olympia. Though every band benefits from having their own live performance style, it's always a draw when a band performs tightly and without hindrance. Several of the night's bands openly admitted to being a one-time deal or not practicing a great deal, but the chemistry of Margy Pepper was undeniable. As one show attendee so eloquently shouted after the band's opening number, the punk outfit was "so fucking good!," and provided an appropriate pseudo-closer for my evening.
While Homomonstrous, Ragana, and Poor Form were sure to righteously close Shout Back!, a lifeless phone/camera and a weekend of festing forced me into retirement for the night. Regardless, the Sunday festivities did everything they had promised: bring together an eclectic array of bands and people, prove to everyone that they're never alone, and help get people excited for next year.