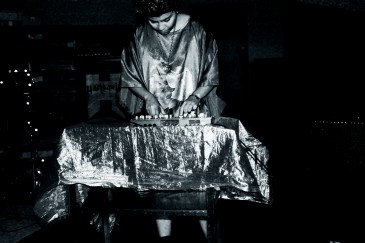 Arriving at Astorino's shortly after the printed start time, I waited out back with some friends for the music to start and ate a free meal offered by the Shout Back! Festival organizers. Take note: a full stomach is vital to surviving a full evening of music.
First on stage was Sajia Sultana, whose voice filled the room with an eerie high-pitched shrill that traversed the room to wrap the space as a whole.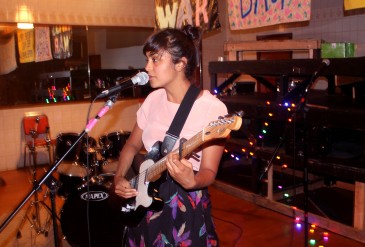 Next came Roxanne Nesbitt (singer-songwriter of Graftician), who strummed her guitar and created a soft ambiance to accompany her singing. Nesbitt's rolling voice recalled the memories carried through her skin. She sang, "The rain, the rain follows me to bed / It doesn't care if I get wet," to join the attached feelings to her body, to build, and to float again.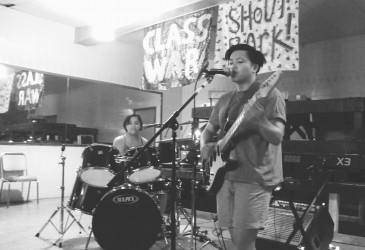 The Lonsdales — a sibling duo originally from North Van but now hailing from Vancouver and Toronto — came together specifically for the festival. Eirene, one of the two siblings, made a special shoutout to their mom and family, who were taking up much of the front row, and dedicated a song to their dad, even though he was unable to attend.
Next up was NighTraiN, an all-black woman punk band from Seattle. Getting their set started, lead singer Rachael Ferguson asked, "Are you raunchy? Because we are all pretty raunchy." It was a four-piece band with Taryn Ren'e Dorsey on drums, Selena Whitaker-Paquiet on bass, Nicole Peoples on guitar and vocals, and Ferguson on keys and lead vocals, plus some mid-song hand clapping to break up the synth, bass, and drums.
One performance in particular that jolted me out of my seat was Nation of Two. With singer Lauren Vignec yelling "Don't need to apologize," accompanied by Darius Morrison on guitar, sweat dripped down Vignec's face and neck as they clenched the microphone and sang about not needing to apologize for anything, not even our existence. In a grand gesture, the microphone stand fell and loudly shook the floor.
The noise and gloom in the room was building as I waited for the start of SBSM's set. Three femmes of colour filling the room with harsh static noise, scattered with a fast, galloping drum beat, made my heart sing. I felt like the room was collapsing, the roof falling in, our souls imploding as Rola yelled about the colonization and fetishization of Asian bodies, and the impact, 69 years later, of the atomic bomb on Hiroshima.
Afterwards, Power Altar's Kim Lindale continued the ethereal flow of energy. Speaking about their indigenous roots in Hawaii and about losing their culture through generations, Lindale pushed and pulsed those lost connections into their body as they moved in ritual to the beats. They moved through the space, the glitter on their face catching the light, and spun the soundscape that slowed down our hearts to listen in and listen always.
Finally, Vancouver's own Purple Hearts Social Club took the stage with all four members — Yexlee, Jillthy, Niki Nice, and Mimi Danger — wearing matching aforementioned purple hearts on their shirts. The room was packed and somewhat divided, with people standing on the left and sitting on the right, but that didn't prevent both sides from equally enjoying the music. The band sung smooth, loving-heartthrob songs, interspersed with raps, bringing in the crowd to vibe to their harmonies as the evening came to a close.