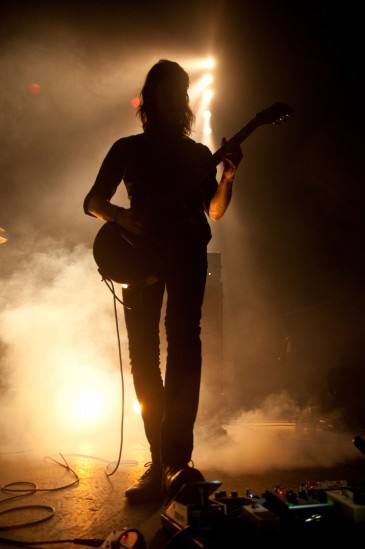 The really beautiful thing about Russian Circles is their ability to draw an incredibly unique blend of concert-goers to their performances. Things were no different at the Rickshaw on September 22, which filled up throughout the night with post-rock nerds, hardcore metalists, ambient enthusiasts, and a serious smattering of ponytail-equipped band worshippers.
The evening started early with The Atlas Moth, a Chicago-based sludge metal band that was every shade of generic and uninteresting. With such a diverse crowd in attendance, it makes sense that if you can't find an opener to appeal to everyone, your opener may as well appeal to the most vocal minority present. And in that way The Atlas Moth delivered in spades, with heavy-handed distortion that alternated traditional doom-metal wail with traditional singing. Lit exclusively from behind, even the guitar nerds in the crowd didn't have much to get excited about as the five-piece were stationary and static for their full set. At times it was even difficult to tell which of the evenly-spaced musicians facing the crowd was in charge of microphone duties.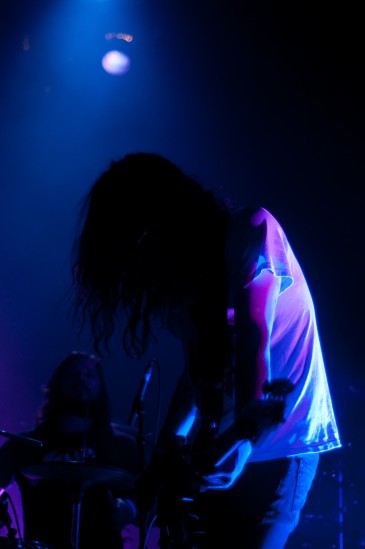 For new listeners to Russian Circles, it just doesn't make sense that so much sound can come out of just three musicians. The band, which draws heavily on both post-rock and metal influences, has a reputation for being able to recreate their recorded material in a live setting through sheer determination — and a mastery of some seriously stacked guitar effects rigs.
Humming ambient drones drowned out the house music before their set started, and served as interludes between their heavy scores as the band members scrambled to get prepared for the next, sonically different, song.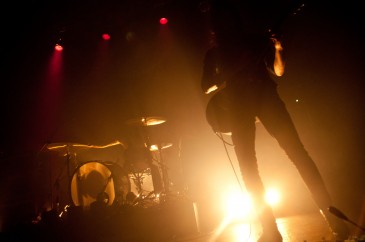 Russian Circles were at their best when they existed in the liminal space between hard-set genre tags: although a certain portion of the crowd was always quick to raise the horns during the band's chugging, double-kick-fuelled rampages, it was the moments that the band created void of clinical definition that won over the entire venue. Heart-tugging arpeggiated guitar chords cascaded into progressively more overdriven territory again and again, and those points where the audience wasn't sure if they were listening to something beautifully heavy, or ugly and raw, were the times that Russian Circles really soared. More than just Mogwai with more headroom, or ISIS with fewer instruments, the diverse crowd at the Rickshaw on a damp Monday night had only one thing in common: the giant grins on their faces at the end of the set.