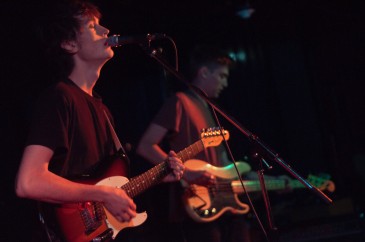 Stepping into the Media Club on September 29 felt like setting foot into a warped reality. The bands on the bill, Dada Plan and Ought, are known for painting abstract pictures that upset social norms through their use of dystopian imagery, ritualistic chants, and lyricism that challenges the status quo.
"I think we might have just been abducted by aliens carrying guitars," questioned one awestruck voice as openers Dada Plan took to the stage.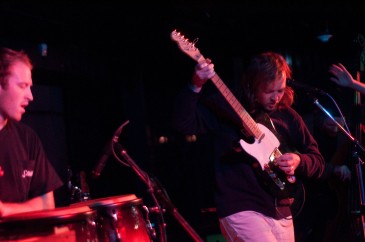 It was an astute observation. The surrealist dreamers gripped the crowd from the first chords of the haunted, oblique textures surrounding "Vaguely Mystical" to their groovy, conga driven rendition of Leonard Cohen's "There Is A War." Bouncing between a retro drum machine and reverb drenched guitar, frontman Malcolm Biddle led the audience through a series of psychotropic, introspective pieces that reflected on the band's self-expressed dystopic aesthetic. Combined with their whirling synths and roaming vocals, the group exuded a hypnotic, visceral quality that left the Media Club in a trance, even though they left me unsure if they were even from this planet.
Ought, who formed in the wake of the 2012 McGill student protests against tuition hikes, first came together to reflect and give voice to the movement. The art-punk quartet have since continued in the same vein: constructing anxious, angular riffs to showcase lyricism that challenges authority and plays with duality.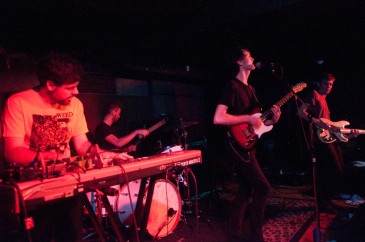 On tour to promote their debut album More Than Any Other Day, the band brought an unexpected level of strung-out urgency to their live act that wasn't present in their recorded work. Instead, Ought came out roaring with a noisier, bolder, and fuller sound thanks to drawn out instrumentals that built up a tense, twitching atmosphere. Their show was marked with this constant ascent towards a discordant uneasiness, a trait that would continue to rise until reaching an almost unbearable level, until finally crashing into a frenzied, blitzed out release anchored in Tim Beeler's frantic chants and Tim Keen's panic attack drumming.
By the time crowd favourite "Habit" rolled around, Ought were performing with such a level of intensity, I couldn't tell whether I had just witnessed a revered offering or a total breakdown on stage. Either way, by the time they howled out their last track, Ought left the crowd completely under their spell.
As I exited the Media Club, I realized I'd left this show a little bit more warped than I had been coming in.