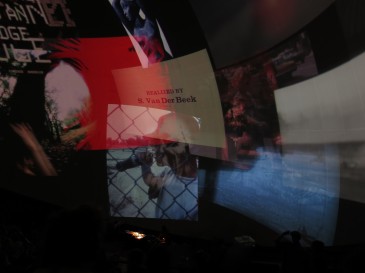 The organizers of New Forms Festival seem to have struck gold this year with their choice of venue. Science World is an ideal place for a multimedia festival that explores themes of technology and the contemporary, drawing from the museum's original purpose as a showpiece during Expo 86.
Thursday, September 18's early evening event was housed under the concave dome of the Omnimax theatre. Once used to screen the first ever Imax 3D film, the theatre featured works by the late experimental video artist Stan Vanderbeek. A sort of anthropological study of 20th century media, the layers of looping film included photo slideshows, nude interpretive dancing, and provocative political satire. The silence was filled by Davachi / Smith, a collaboration between two electronic music scholars. Their entire 30-minute set consisted of a single piece: a wall of sound and oscillating harmonies that grew slowly but surely, like a nuclear explosion in slow motion, to a cacophonous, beat-driven finish.
Following the duo in a similar yet slightly darker vein, Sinoia Caves (Jeremy Schmidt of Black Mountain) played cinematically flavoured, drawn out ambient jams. The theatre's subwoofers were put to the test by the pulsating basslines.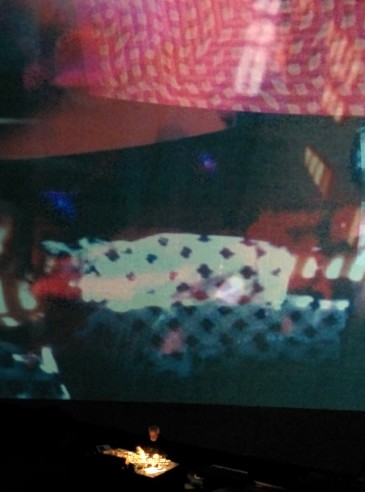 Watching Morton Subotnick close the first part of the night was truly a treat. A veteran and pioneer of experimental music, he made full use of the theatre's surround sound system, creating an immersive 3D soundscape of amorphous noises. A few times I caught audience members, including myself, turning their heads instinctively in a futile attempt to catch a glimpse of the fleeting, whispery vocal samples flying around the stereo field. Subotnick wrapped up his performance on a euphorically melodic note, with a short but sweet series of arpeggios originating from his Buchla 200e modular synth.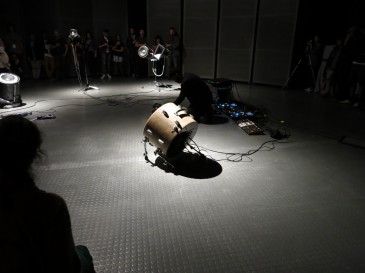 After a 30 minute intermission that awarded the nearby McDonald's an artsy influx of festival-goers, the second floor scheduling began with a jarringly dark performance by Kevin Beasley. Dressed in all black and a gas mask, Beasley stalked around his custom-built speakers in an apparent daze, like a masked terrorist among hostages, growling indistinctly into microphones. After a while he fell to his knees in front of two CDJs, and played a brutalist minimal techno set for what was longer than some of the audience could handle.
With a shift of curtains and only a brief break, the mass of attendees were invited into a new corner of the expo space, allowing for Inga Copeland's set to start precisely on time. Copeland played most of her freshly released solo album, Because I'm Worth It, a bold follow-up to the breakup of Hype Williams, her iconoclastic collaboration with Dean Blunt. She layered live vocals on top of skull-piercing percussive elements that, although bordering on the physically painful, put everyone into a decidedly dancing mood.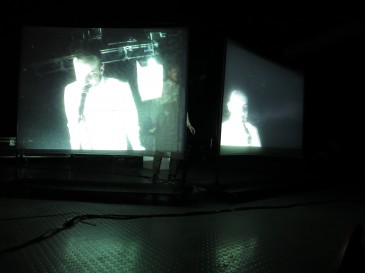 Next up was Vancouver hip-hop fixture Young Braised, whose oddball persona, witty lyrics, and warm, infectious beats have won him a dedicated and affectionate fanbase. His performance was in large part mediated through a cleverly executed visual component provided by his fiancee, artist Soledad Muñoz. The eccentrically brainy rapper dispensed his characteristic flow from behind two silk screens, onto which a live feed of both him and the crowd were projected, finally coming out from behind the images of himself for his iconic tune, "Murakami."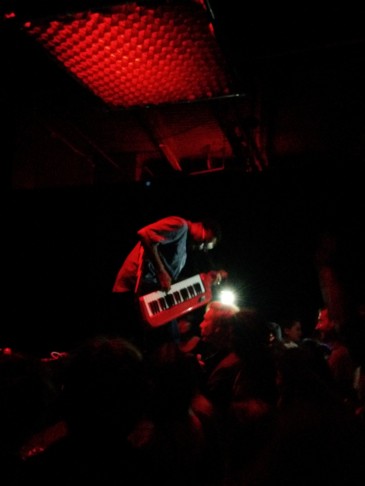 While the night was originally intended to be closed by an anticipated performance from Madlib, unforeseeable circumstances had gotten in the way. Instead, LA co-resident and Stones Throw labelmate Dâm-Funk was sent to reassure us all that the funk is far from dead. Although the funk was often interrupted by heated bouts of shit-talking and passionate digressions on racial insensitivity, the cosmic emissary of soul left few doubtful with his stage presence throughout a heated DJ set infused with positively sexy vocals.