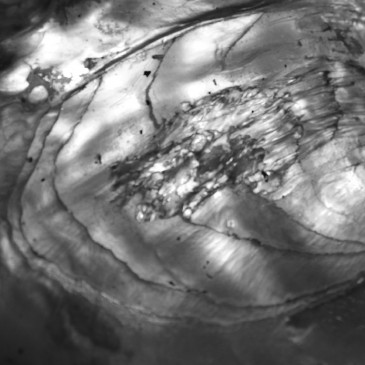 Healthy Hands (will mourn you)
OK, so here's the deal. A couple of years ago, Romy and Sari Lightman, two gifted elfin twin sisters performing under the name Ghost Bees, discovered a time machine and traveled to periods in time when the musical landscape was going through important evolutionary shifts. During their journey, they picked up some chops from the Victorian-era, were introduced to exotic instruments by a band of gypsies, and even spent some time on a pirate ship learning sea-shanties and drunken jigs. After soaking up the old school sounds, they eventually found themselves back in the present, just pregnant with musical ideas,and penned an album called Tasseomancy.
Fast forward to the present. The twins have grown older and evolved as people and musicians. For one, they've now re-branded themselves Tasseomancy, and the Halifax-based duo are ready to share a fresh batch of neo-folk songs.
Where Tasseomancy was a bit sparse and impersonal, Ulalume, is full of warmth.
With added instruments and a more confident song delivery, there is simply more going on with this album. Take, for example, "Mourning Chest." Though its back half is free of words, its droning, crackling, bass-heavy moments are sublime.
I sometimes find the vocals to be a bit annoying, and there seems to be a disjointed structure to some songs. But perhaps that is what neo-folk plays at, eliminating the possibility of fairweather fans by gearing it towards those who'd "get it." I might not be able or willing to wrap my head around it all, but, like a séance, tea-leaf reading or a great death dance, there is some serious juju at play on this album that can't be denied.