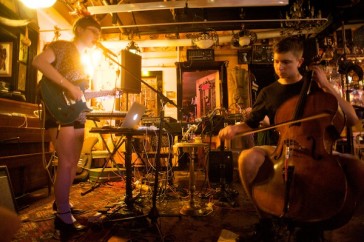 On a hot summer evening in East Vancouver, three opening acts graced the floor of the steamy, antique-filled Prophouse Cafe before Stefana Fratila capped off the night with an anticipated headlining set.
Thomas Weideman was first to perform, delivering an experimental cello set that he wrote before a family vacation earlier this summer. Weideman mentioned during his set that he had created these songs quickly and without much revision. Perhaps it was the sound system, but Weideman's vocals were barely audible over the stringed instrument.
Crystal Dorval (who also goes by the monikers 'My Friend Wallis' and 'DAD') was the second to play, performing a short electric guitar psychedelic rock solo set. Dorval played her head down, her hair strewn over her face. Her mysterious stage presence fit the quality of her instrumental set, which captivated the audience in a bewildering fashion.
By the time Jonathan Scherk (also of Flash Palace) and Sam Beatch (also of Bench Dawn Optimist) started up their ambient, down tempo set, people were strewn in front of the stage as though they were sitting in someone's living room for a private performance. Their set consisted of slowed-down and multi-layered samples in the vein of Boards of Canada with an Amen Break thrown in for good measure.
The demure Stefana Fratila began her performance with Weideman around 11 p.m. Sadly, this was her last set in Vancouver, as she will be moving to Paris in early September. Shyly facing the wall, Fratila thanked the audience for attending. It seemed like an emotional affair for most people in the room, as many fans were shouting that they were sad to see her go.
Fratila primarily performed new songs from her as-of-yet unnamed and unreleased second album, including an experimental track called "Red" which she co-wrote with Weideman. The songs from her new album indicate a departure from her earlier work, which she wrote while still in high school. The newer songs have fewer vocal arrangements, are less poppy and indicate that she's moving into a new creative milieu by experimenting with her song structures.
Late in the set, one of the many vertical light fixtures to the left of the stage area unexpectedly broke, ultimately signifying the end of the night. But before bidding the audience adieu, Fratila thanked the audience again for being patient and staying late into the night for her last Vancouver performance for some time.