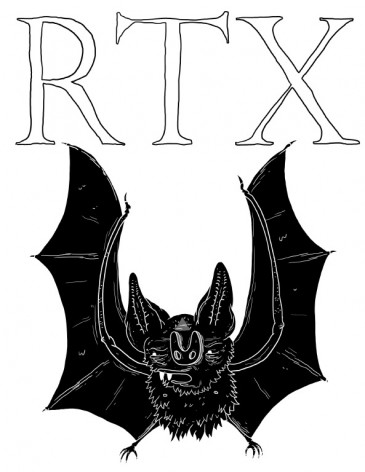 It's evening, and a violet gloom spreads over the city like ink dispersing in water. I'm on the line with an enthusiastic Jennifer Herrema, who is in Sunset Beach, California, as a shrill and brisk wind blows a goodbye to warming weather. It seems fitting as autumnal darkness descends, then, for Herrema's current hard-working and hard-rocking outfit RTX to bring their churning tunes—equal parts glamour and dark-edged disaster—on a West Coast tour. The September shows are in support of their new split seven-inch with Nashville-based tourmates Heavy Cream, and the band just may well preview some new tunes from their upcoming Rad Times IV LP, which is expected to drop this winter.
"The fall is always a good time to tour," remarks Herrema, who has been keeping very busy as of late, though her modesty might suggest otherwise. "I don't know if I keep that busy," she says somewhat self-consciously while lighting a smoke, adding: "I mean I spend a lot of time messing around in our studio, or painting, or surfing, or just zoning out… It doesn't always feel like work, you know?"
Herrema's reserved predilection is refreshing and a little rattling. Originally, she made a name for herself in the mid '80s with Jon Spencer's Washington, DC garage band Pussy Galore, later sharing the collaborative spotlight with then-boyfriend/now ex-hubby Neil Hagerty in the hugely influential alt-noise pioneering outfit Royal Trux. In Royal Trux, Herrema helped lead the charge and set the template for a barrage of rebellious and experimental '90s-era art bands, from the likes of Boss Hog and Pavement to later acts like the Fiery Furnaces and Yeah Yeah Yeahs.
Herrema's raspy sneer, penchant for feathers, fur pelts and her ubiquitous cigarette have become her hallmarks, and though possessing a similar moniker to Royal Trux, the absence of Hagerty has made RTX a very different band. Highlighting Herrema's hesher-loving leanings and glam-rock readiness, RTX forge a link between psychedelia and heavy metal in a distorted and indulgent haze, with self-explanatory anthems like "Headbangers Ball" and "Cheap Wine Time," both off 2008's JJ Got Live RaTX, clearly classifying their rock 'n' roll quo animo.
Focusing more on classic rock clichés and cock-rock excess, RTX eschews the avant-rock of Royal Trux in favour of a Guns N' Roses or Mötley Crüe-styled degeneracy that spotlights undue shredding and lots and lots of hair. But will RTX, even while creating a niche all their own, ever get out from under the spectre of Royal Trux? With the '90s revival siring a recent spate of reunion tours, not to mention recent reissues of Royal Trux's earliest albums, has the nostalgia wave persuaded Herrema any?
"Well, you know, Royal Trux got a lot more respect because Neil was in the band," she says matter-of-factly. "Royal Trux have been offered some big bucks and big opportunities to be part of that 'revival' you speak of, but I think Royal Trux transcend the '90s." Herrema pauses a moment to chose her next words carefully: "We'll be part of our own revival at some point… or not."
To anyone not paying attention, Herrema hasn't been pining for the '90s heyday or trotting out the oldies. While many of RTX's albums have focused on the manic, apathetic, sleazy rowdiness her fans have come to expect, it hasn't dominated her life completely. No, she's been busy in other areas beyond the RTX radius. A former Calvin Klein model and legitimate practitioner of "heroin chic," Herema is still fashion obsessed and has a handful of fashion lines on the go on top of her RTX duties.
"I always try to keep myself entertained and open-minded and as a result, super cool opportunities and people enter my life. There's the new RTX album, Rad Times IV, coming out in January on Drag City, I've got another small denim collection with Volcom for Fall 2012, and a t-shirt and jewellery collaboration with Pamela Love for the 2012 holiday season. For me, lots of touring and working on cool shit is going on," Herrema adds hotly.
One can expect RTX's guitar-driven concerts to highlight hedonistic swagger, head-banging and enough big hair to make the likes of Axl Rose or Nikki Sixx pale by comparison. But Herrema's decadent days of drug-addled debauchery are behind her (it was, after all, her drug-related undoing that ended the Royal Trux, back in the day), at least somewhat.
"Familia is probably my favourite breakfast cereal," she willingly dishes out of her current addiction, "It's a staple on the road—I've been eating it since I was a kid—since my nana first gave it to me." That's probably as wholesome as Herrema gets, but who is to say? From a prolific artistic standpoint, she is happy with her success and her knack for remaining relevant.
"I have accomplished so much and created so much work that I'm proud of and I've done it all on my own terms," Herrema adds amicably with a smidge of fitting satisfaction, "all while staying true to myself."

RTX plays the Waldorf September 7.