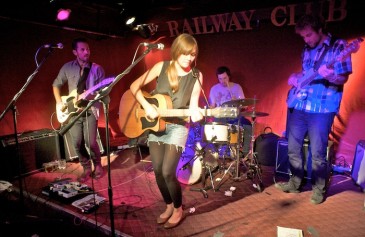 Redbird's first appearance since the release of their debut EP We're All Friends and Lovers Until It Falls Apart was met with a full house and a receptive and appreciative crowd. The show got off to a good start, however, with the acoustic folk stylings of Ana Egge, whose admittedly sparse arrangements captured the audiences attention with a quiet magnetism. Between songs, she took time to talk about her interesting, albeit confused citizenship, being a Saskatchewan native who moved to the U.S. as a child, all the while promoting new album, Bad Blood, in a soft spoken and gentle manner. Her between-song storytelling, coupled with her somewhat shy stage persona, put forth the image of a world weary but perseverant country girl. Ana's countrified blues, a la Joni Mitchell, was soothing and meditative.
Next up were Vancouver natives Lakefield, a five piece dance rock unit whose set was easily the most romantic of the already very intimate show. Keyboardist Kate Rossiter and Steven Luscher's vocals played off each other in an almost adorable manner. Hell, the group even has a track called "Cupid" which Kate introduced as "A song about anger, heartache, and love." The group also showed an admirable level of versatility with their songs. A trombone featured on at least half of their set, and gang vocals appeared on at least two occasions. The highlight of their set, and the evening, was their performance of "Around You." The lights went out during the slow-burning ballad, highlighting the glow-in-the-dark hearts taped to each band member's chest which flashed in time with the bass drum beat as a beautiful trombone solo filled the venue.
Redbird emanated an impressive level of self-assurance and confidence almost when they took the stage. Acoustic guitarist Savannah Leigh Wellman was the clear star of the group, her powerful vocals coloured by a strong R&B/soul influence. The playful barbs exchanged between her and guitarist John Sponarski made for some of the funniest banter of the entire evening– the best bit being Sponarski's deliberately self-aware quip, "Slow songs suck!" arriving just before the band launched into a ballad. But while Redbird did mix in some southern rock, flamenco, and country elements into their set, on the whole the individual songs failed to leave much of an impression. This, coupled with Lakefield's memorable set, meant that Redbird's music did not leave much of an impact on this writer. Sometimes you just can't top a trombone solo.