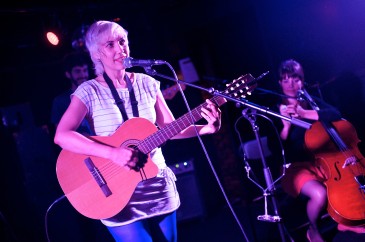 I'd been working a lot in the last few weeks and needed a reprieve from the grind of daily service to the masses. My soul needed some soulful music and the rest of me needed to share it with my girl, so I bit at the pitch for Olenka & the Autumn Lovers and made it out to the Biltmore Cabaret.
We arrived as locals Synthcake were a couple of songs deep into their set. As you may have gathered by their moniker, the group is a little heavy on the synthesizer. But despite the cute name, this isn't easily digestible, wimpy synth pop. Sounding like a cross between a gothic carnival band and the soundtrack to a rockin' horror comedy film, Synthcake wowed us with big brassy trumpet blasts, crunk-nasty keyboard licks and danceable songs. Vocalist Lana Pitre has a great gift of voice that carries down into your guts and stirs around as the band plays on with a not too serious dramatic flair. The band just released an EP called Musicophilia, and they were striking enough for me to buy it.
Also with a freshly pressed, 5-song self-titled EP were Aunts & Uncles, and I was gladdened to see SSRI's frontman Joseph Hirabayashi taking the helm of the trio. Even better was their sound, which was a dynamic blend of baroque-pop, jazz and maybe even a little bit of punk. Paired with Hirabayashi's unmistakable child-like shredder of a voice, they sort of reminded me of a kinder gentler SSRI's, only with violin, keys and girl vocals instead of harsh song structures.
Now, I'm not gonna lie, Olenka Krakus, lead guitarist / singer of the Autumn Lovers, is a beauty. I'm a big dumb sap for lady singers with great stage presence. Krakus brings an authenticity to her songs and doesn't fill space with unnecessary movement or banter. She and the rest of her London, ON-based outfit played a set that felt seamless as they ran through older tunes and a few from their latest And Now We Sing. Songs like "Go" were immaculate and I'm pretty sure they played "Odessa." By far the sweetest note came when Krakus alone closed with an old traditional sung in her Polish tongue. It was intimate and personal live moments like these that made it so worthwhile to bite at the chance to check out a show after a long grinding stretch of work. The old world standard was the cool lullaby I needed to keep with me as my lady and I made our way back home.