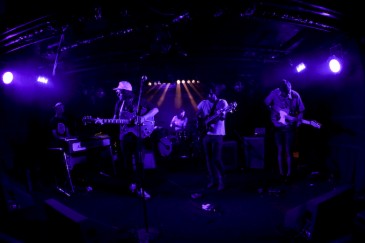 Where was everybody? It started as a real quiet night at the latest Rock 'n' Roll pizza party at the Biltmore, despite my arriving nearly an hour after the doors opened. Even then, it was a good half-hour before Love Cuts took the stage to greet a sparse crowd scattered along the dance floor. The the brief set was full of timing miscues, the timid, young band shows promise. There was something appealing in their straightforward bass-drum-guitar approach and careless, almost whining dual female vocals leads. Though it was an underwhelming start, they should get a lot better with a few more shows under their belts.
Watermelon came up second and was the highlight of the night. Great lo-fi drones and distortion buzzed brilliantly throughout the set, though the drummer stared blankly forward and the bassist strummed motionlessly. The frontman displayed some ingenuity, however, as he completed one tune using a broken guitar strap and got through their final song even though his guitar cut completely –unless that was how it was supposed to end. Either way, a much more powerful second act, engendering a livelier atmosphere in the aftermath of their drones.
Capitol 6 leader Malcolm Jack (also of Sun Wizard) was certainly the most popular guy of the night, hovering around prior to his performance chatting with everybody in the bar, and then proceeding to greet everyone again as he took the stage. Capitol 6 follows in the footsteps of Sun Wizard, crafting rock songs adrift on a mellow sea of reverb. They're an amiable group that writes good songs, but there seemed to be something missing. It wasn't quite enough, and there was a sense of the show being left unfinished; the show never managed to get into full swing.