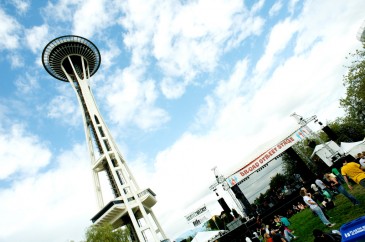 With the last long weekend of the summer approaching, there are a number of ways in which we can celebrate that extra day off before going back to work and school. We could dress ourselves head-to-toe in white clothing, possibly sneak in a bocce game, or we could just sit around and lounge on Labour Day. But c'mon people, this is your last long weekend of the summer. Make it memorable. Why not pack yourself into a car and cross over into Washington for Bumbershoot, Seattle's long-running Music & Arts Festival?
Since 1971, Bumbershoot has featured performers representing the best in music, film, comedy, spoken word, dance, theatre, performance and visual arts. One of North America's largest urban arts festival, Bumbershoot takes place smack dab in the middle of the city at the 74-acre Seattle Center. Over 100,000 visitors flock to Seattle every year for this brilliant urban-music festival.
The caliber of performers has always been high, and this year will be no different. Whether its hip-hop, rock 'n' roll, electronic, folk,or '80s nostalgia (Hall & Oates!), there is literally a band to fit everyone's tastes and preferences.
Wiz Khalifa, Big Boi, Das Racist and Kendrick Lamar have you covered if you're into hip-hop. However, if you're not into that scene, don't despair. Swedish electronic group Little Dragon will be tearing it up, as will legendary soul singer Mavis Staples.
There will also be a few bands representing Canada, including baroque-pop superstars Broken Social Scene, Kingston, ON garage rockers PS I Love You, and Vancouver punk veterans NoMeansNo. Canadian newcomers Purity Ring will also be playing, which means vocalist Megan James will be angelically singing over the troupe's infectious beats.
The possibility of getting lost or separated from your friends in such a large area is inevitable, so plan ahead. Download a printable map from the Bumbershoot website, bring a water bottle (for free water fill-ups) and enjoy all that this iconic festival has to offer.
You can go online right now to www.bumbershoot.org and create your own custom weekend schedule.