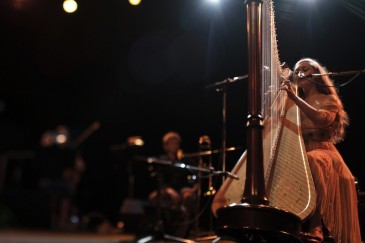 Standing ovations usually don't mean much at the shows that Discorder covers. First, most of the venues don't have seating, and second, most crowds are usually polite enough to offer some restrained clapping. This show was different—when harpist/pianist Joanna Newsom's set ended on Thursday, the crowd erupted from their seats and the applause was deafening.
Robin Pecknold, best known as the lead singer for the Seattle harmonic folk band Fleet Foxes, opened the show with a solo set showcasing a lot of new material. It was clear that he's a talented guy, but also somewhat limited. Imagine a Fleet Foxes album without the gorgeous vocal harmonies, and you should have a good understanding of his newer work.
After performing "81" solo, Newsom was joined by a five-piece band that contained, at various times, violins, trumpet, banjo, guitar, drums and tambura. Her recent triple album Have One On Me claimed about two-thirds of her 90-minute set, and to say the least it was fantastic live. The album contains huge variety, and it showed—Newsom switched seamlessly between shorter, more conventionally structured songs like "'81," upbeat piano-heavy romps like "Good Intentions Paving Company," and long, meandering harp-based numbers like "Have One On Me" and "Baby Birch."
Even more fun, though, was hearing older numbers rearranged for the five-piece band. "Monkey & Bear" was played slightly faster than usual, lending a sense of urgency to the whimsical ten-minute fable. "Peach, Plum, Pear" was accompanied by an tambura, violin, and trumpet, then given a captivating extended instrumental outro. Newsom has grown immensely since those songs were first recorded, and it showed. After the main set and the encore of "Baby Birch," every audience member was on their feet begging for more.