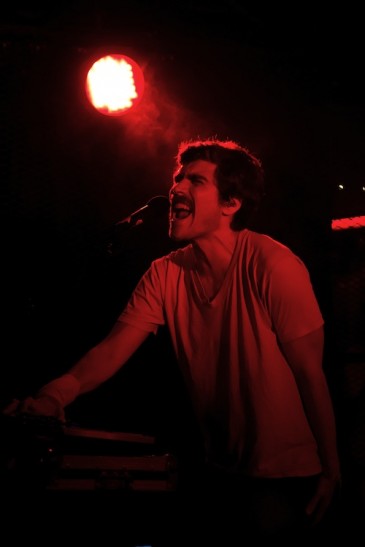 As the hordes flocked to the city's bays and beaches for the evening's fireworks, a few others ambled over to Prince Edward St. to be greeted by the winsome sounds of Edmonton's Whitsundays wafting through the Biltmore's wide-open doors. A five-piece, they played light indie rock complete with summery, sweet harmonies to a sparse audience of early birds. Their latest full-length, Saul, explores styles from weirdo-psych to earnest folk, but the performance was homogeneous and ponderous, save for a theremin-fuelled blowout finale.
Twin Sister, by contrast, found themselves playing to a dense crowd near the stage. They were basically Chairlift with extra guitars and a shot of caffeine, with everything in place to conjure up a dreamy retro sound: demure female vocals, jangly guitars and Cure-ish keyboards. It was entrancing and exciting by turns, a nice complement to the setting sun outside and the cooling breeze from the still-open front doors.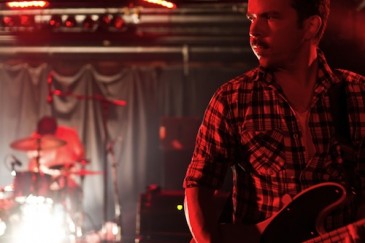 Finally, as the outdoors were shrouded in dusk, the stage inside became bathed in red light and the three moustachioed gentlemen of Bear in Heaven took their places. Wolf howls and hoots from the crowd were constant throughout the evening, prompting singer Jon Philpot and bassist Adam Wills to do some howling of their own. Amid the fun and games, the band hit all the high notes from new album Beast Forth Rest Mouth, as Philpot's face strained to convey the flooding emotion of "Ultimate Satisfaction" or execute the mournful wails of "Beast in Peace." "Wholehearted Mess" created an undulating dance party, and both "Lovesick Teenagers" and its reprise, "Casual Goodbye," were just what everyone desired: a release of the uncertainties of youth in perfect three-minute pop songs.
Closing out with a distorted cover of Lindstrøm & Christabelle, the headliners made fireworks in their own way, ones fashioned from echoing synths and rolling drums, and ones that came without the risk of a police beatdown at English Bay.