So, you've just seen the cover of Discorder's October Issue and you've decided to vote in the municipal election on October 20, but you don't know who to cast your ballot for. To be honest, we haven't decided either and there are a lot of hot issues still unfolding that will influence our selection. Lucky for Vancouverites, there is great local coverage to inform our decision.
The following is an alphabetical list of some of the most reliable reporting, opinions and resources that we've seen, which can hopefully help guide your decision-making.
One final piece of advice: Vote based on the issues that affect you personally, that you feel passionate about, not because some publication or individual tries to tell you what's up. It's your vote.
---
Cambie Report is a Vancouver politics podcast hosted by Ian Bushfield, Patrick Meehan and Matthew Naylor. In addition to their podcast, which features discussions with candidates, journalists and academics, they have published helpful resources at cambiereport.ca, including a spreadsheet of all municipal election candidates and another mapping out municipal parties by economic, social and urbanist issues. As with most podcasts, Cambie Report has a Patreon, which grants supporters access to longer versions of mayor candidate interviews, if you're keen on that sort of thing.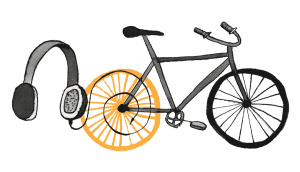 City of Vancouver website isn't as exciting as these other suggestions, but it's the definitive source of who is running for what, and how and where to vote. Voters aren't just choosing a mayor and councillors; they're also choosing commissioners for the Parks Board and trustees for the SchoolBoard. On the City's website, there are profiles of all candidates, which include their biographies, priority issues, platforms, party affiliations and links to personal social media.
"Election Cycle" is a segment on Stephen Quinn's The Early Edition, where he takes a bike ride with a different mayor candidates each week until October 20. The Early Edition airs weekdays on CBC Radio from 5-8:30AM, but all their episodes are archived at cbc.ca/earlyedition. On his own Twitter, Quinn retweets local journalists and responds to many articles about candidates and issues. Follow @CBCStephenQuinn.
Frances Bula is a journalist with an extensive career, best known locally for covering city politics and urban issues. Having reported on every municipal election since 1994 and seen the sharp evolution of Vancouver's municipal parties, Bula is an incredible source of information, and has been interviewed by Seeking Office and Cambie Report. She blogs on "State of Vancouver" at francesbula.com and tweets @fabulavancouver.
The Georgia Straight is a staple of municipal election coverage. They report on what's happening and who's saying what, always including the sassiest parts of speeches and debates. Articles by editor Charlie Smith are especially straightforward.
The Mainlander is "Vancouver's Place for Progressive Politics," an online publication dedicated to political and social issues. They don't publish articles that often, but when they do, their pieces are in-depth and well researched, often based on interviews with community members and rooted in historical context. The editorial collective includes Sydney Ball, Nathan Crompton, Steffanie Ling, Andrei Mihailiuk, Caitlin Shane and Vince Tao. They've promised at least a couple articles leading up to the October 20 election day.
Metro Matters is a CBC newsletter by municipal affairs reporter Justin McElroy and social media editor Tamara Baluja, emailed out every Thursday. Its focus spans the Lower Mainland, meaning that topics aren't Vancouver-centric, but they're all really interesting. Metro Matters is by no means comprehensive, but its headlines provide a good overview of how candidates are responding to relevant election issues. To sign up, visit subscriptions.cbc.ca/forms/metromatters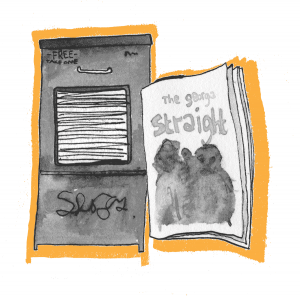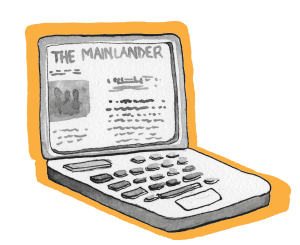 Price Tags was created by Gordon Price, an urban planner and former city councillor with the NPA. It began as a newsletter for friends and colleagues, and has expanded into a website that publishes perspectives on Metro Vancouver issues, including this upcoming election. The way opinions are categorized are very true to what you would expect from an urban planner, divided into the following headers: Urbanism, The Liveable Region, Transportation. Read Price Tags with a critical eye at pricetags.ca
Seeking Office is the municipal election podcast by CiTR's News Collective, produced by Podcast Coordinator and emerging journalist, Alex de Boer. (You can read an interview with de Boer in the September issue of Discorder.) Seeking Office doesn't have a standard format, which adds to its enjoyability, you never know what you're going to hear! The News Collective has conducted some truly feisty interviews with council and mayor candidates, and have also researched the history of specific political parties and electoral processes. Every episode of Seeking Office has also aired on the News Collective's weekly radio show Democracy Watch, Thursdays from 5-6pm. You can subscribe to Seeking Office wherever you get your podcasts, or listen to archived episodes of Democracy Watch at citr.ca/radio/democracy-watch.
The Star Vancouver publishes some good updates on the municipal election, but nothing too comprehensive. The best way to read The Star is in print, available daily at your closest big public transit hub.
The Tyee is an independent online media organization that does a lot of reporting on the environment, climate change, affordability and electoral reform. Through their Tyee Builders crowdfunding program, they hired journalist Geoff Dembicki to cover the municipal election. If you sign up for their newsletter, you can get daily or weekly headlines by email.
Vancouver Tenants Union is an unlikely addition to this list, but one of the biggest issues in this municipal election has been affordability and the housing crisis. Check out their website for The Renters Report Card, a working group of the VTU that developed tenant-centred questions for candidates to respond to. Follow them on Facebook or Twitter @YVRTenantsUnion.