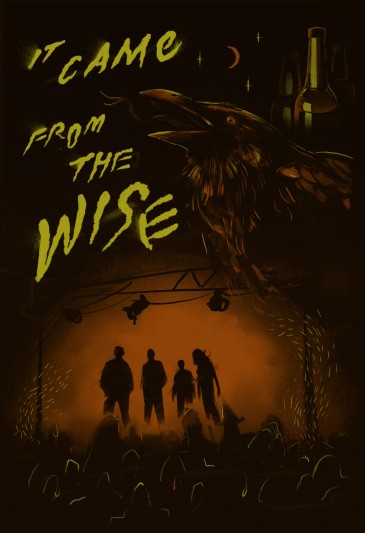 This Halloween, the dead will walk again.
On October 31, several of the still-living remnants of Vancouver's '80s alternative-music scene will rouse themselves for an autumnal fest. It'll be a party to rattle the bones and shake the rafters of the Wise Hall until the noise carries right on up to that mysterious region inhabited by the likes of Lux Interior, Joey Ramone, and all their undead rocker friends.
"Plan 9 from The Wise" is billed as a Halloween Night Tribute Terror with performances by The Spasms (a Cramps cover band), The Manglers (Stranglers tribute), The Dirty Magazines (Magazine tribute), and The Ramores (Ramones tribute). The lineup promises to be very entertaining, with an all-star cast of members from other bands of time past.
The Plan 9 contingent are quite experienced, composed as they are, of various members of multiple late, great, lamented bands like The Enigmas, The Debutantes, Go Four 3, The Dilettantes, The Hip Type, Death Sentence, Dirt, Cast of 1000's, SNFU, Cadaver Dogs, INSEX,  Infrädig, and others.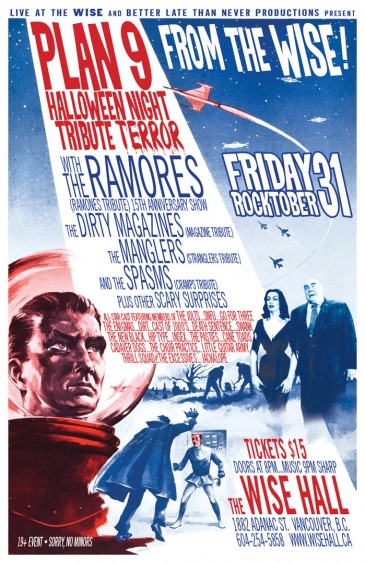 Things to watch for:
The Ramores— with members of The Jolts, Ballantynes, and Nervous Talk — can be counted on to rip up a fistful of Ramones hits, including "Blitzkrieg Bop," "I Wanna Be Sedated," "Rockaway Beach," and "Sheena is a Punk Rocker." Rumour has it they will also be peeling off into more obscure gems like "The KKK Took My Baby Away" and "Go Mental."
The Dirty Magazines promise a treat for all of you alt-prog fans as they will masterfully re-create sounds of seminal late '70s/early '80s art-school punk gods, Magazine. Never mind that original frontman Howard Devoto absconded from The Buzzcocks with "Lipstick" to re-create the song with new lyrics as Magazine's "Shot by Both Sides"; he's a genius, and continued to prove it with more classics like "The Light Pours out of Me." This is definitely one to look forward to, with extremely proficient and tasteful players including Doug Smith (Dirt, Piggy), Gary Economy (Cast of 1000's, The New Black), Gord Badanic (The Debs, Go Four 3, TNB), Chris MacLeod (Cast of 1000's, Jazzmanian Devils), and Sean Stubbs (SNFU, Rat Silo). Decay never sounded so good.
I last saw The Manglers perform on a 2010 double-bill with The Enigmas. That particular gig was filmed by legendary Spore's frontman (and filthy-disgusting chick-magnet) Danny "Schmanny" Novak, and released earlier this year to DVD as The Enigmas: Live in Concert. If you missed the Zulu Records in-store earlier this year, when Stranglers' frontman Hugh Cornwell took audience requests, you can get your fix this way. Expect to hear virtually note-perfect versions of the big hits: "Golden Brown," "Something Better Change," "All of the Day (And all of the Night)," along with nuggets like "Dead Los Angeles" and "Duchess." Band members bring solid credentials to pull off the depth and drive required of this music. They include Simon and Phil Addington, currently SWANK, formerly of MOEV and Family Plot, as well as powerhouse vocals from Doug Donut of Vancouver's late punk-annihilators Death Sentence. Jenn C handles the all-important keyboards.
The Spasms will evoke the classic Cramps lineup of Lux Interior, Poison Ivy Rorschach, Brian Gregory, and Nick Knox. Expect to hear grimy, percolating tar pit dirges like "Goo Goo Muck," "Green Fuzz," and "Garbage Man," along with more upbeat tunes like "Domino" and "Surfin' Bird." Poison Ivy (a.k.a. your humble scribe) has been known to toss eyeballs out to the audience — don't duck, they're Purdy's chocolate eyeballs — so if you behave and don't crowd the stage, I'll even throw them underhand, the easier for you to catch one, my pretties.
Tickets for the event are available for $15 a pop from BoneRattle, Neptoon, Red Cat, and Zulu Records. Keep in mind that the show is 19+ only and the lineup, as rad as it is, is subject to last-minute changes.