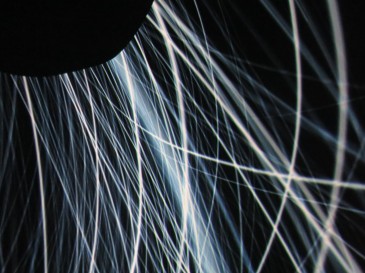 Day two of New Forms started off with Science World's iconic outline framed against the transcendental backdrop of a classic Vancouver post-rain sunset. Within the structure, an entirely different kind of sensory spectacle was once again unfolding on the canvas of the Omnimax.
Thursday's performances in the amphitheatre left a bit to be desired as far as forming a cohesion between the aural and the optical, despite the markedly excellent quality of both. As though to make up for this, Friday's opening act Clinker offered a fascinating perspective on the physical meeting of sight and sound. By filming tiny particles reacting to the oscillations of amplified signals, the Canadian visual artist created abstract, natural animations that eerily mimicked real world phenomena, like the pinwheel spin of galaxies and group dynamics of cell fusion.
A collaboration between experimental composer Murcof and graphic designer Simon Gelfus explored the same cross-sensory arena, but from a firmly digital angle. Murcof's swelling, blasting music utterly gripped the audience, while being taken on a journey through the spatial universe of Gelfus' series of darkly lit, tangibly pulsating forms.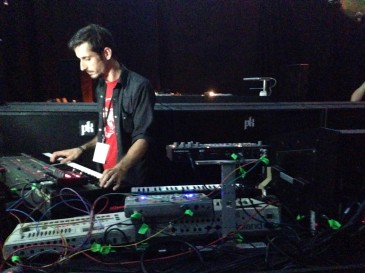 The bubbling dance party that followed was split between the second floor space, which was the sole venue for Thursday's late-night programming, and a ground level area in the Science World atrium, accessed by a pair of curved staircases overlooking the dancefloor below.
For the most part, the second floor acted as an acid-techno den, brimming with body heat and human energy. Vancouver's own Lnrdcroy started things off with a meditative, bass-drenched live set featuring mostly fresh and unreleased material, channeling turn-of-the-century vibes reminiscent of former Boards of Canada member, Christ. Word on the street is that his set was being recorded, definitely something to look out for.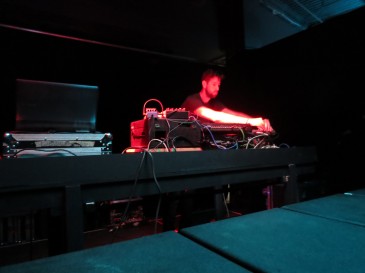 The Vancouver takeover continued with acid missionary Cloudface, who played his unique blend of modulated bass loops and dense ambience for a deeply immersed crowd dancing beneath the atmospheric lighting. Together, the two local artists painted a very impressive picture of the creative output emerging from this city's underground electronic music scene.
A grey-haired Italian under the moniker Bochum Welt followed, with a convincing throwback to the glitchy electronica of the early '90s. Once speculated to be one of the enigmatic Aphex Twin's alter-egos, the producer excelled in taming his cacophonous walls of rhythm with captivating euphoric melodies.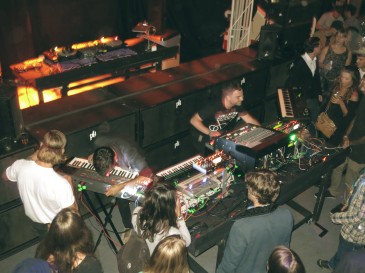 Meanwhile the space downstairs was being temporarily metamorphosed into a European dancefloor by two young artists from Dresden, Germany. While Jacob Korn's treated the floor to a highly satisfying hour of no-frills house music, his labelmate Cuthead followed with a more diverse range of sounds that seemed to lose some of its focus along the way.
Despite the bars having been tragically shut down after 2 a.m., there was still a feeling of momentum lingering in the crowd as Jamal Moss stepped up to perform his set under his cryptic Hieroglyphic Being persona. His somewhat schizophrenic sound explorations were well-received, charging the audience with hypnotic rhythmic hooks emerging out of murky clouds of noise.
Day two of the festival ended much later and on a more exhausting note than Thursday's comparatively laid-back programming, setting the bar high for the much anticipated finale on Saturday — and judging by last night's energy levels, I sincerely hope everyone got a good night's sleep for this evening's high-quality sensory entertainment.