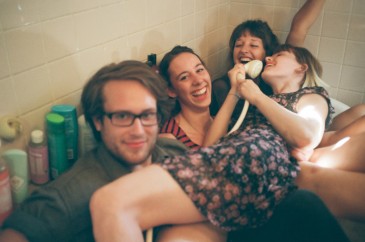 Try and find a better sensation than kicking off your tattered Chucks at the end of a hard day's sunshine. It's all about tossing your Girls in the Garage, Vol.1 vinyl on and letting those slimy socks dance along dusty hardwood as you munch from a salad bowl full of chips. There's not a lot that can beat drinking a beer while your hips are thrusting inside some acid-washed jean shorts. Maybe we have different ideas of bliss, but I'm pretty certain the dreamy psyched-out fuzz love band Les Chaussettes knows what I'm talking about.
After just celebrating their one-year bandiversary this past summer, guitarists/vocalists Jovana Golubovic and Bella McKee, bassist/vocalist Maria Turner, and drummer Alex Smith have been ripping stages from Rent Cheque at the Astoria to their favourite "holiday" Music Waste. Chilling with the band (minus Smith) in the courtyard outside Golubovic's house, we talk of drunken birthdays kick-starting bands and how the powers of the Internet led to their upcoming release by UK label Punk Fox Records.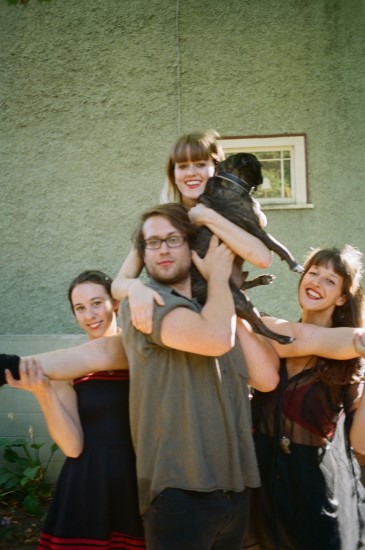 As a cute pug named Bolan — after Marc Bolan, of course — scampers around us, McKee shares the story of how she pulled Turner, Golubovic, and another friend into the basement at her birthday last year to learn the cover "He's Not There Anymore" by '60s girl group The Chymes. The song is still a part of their set to this day and was just released as part of a Napkin Records compilation.
"That was the first song I ever played on bass," admits Turner, "Bella just handed me the instrument and was like 'You're going to play this.'"
Despite the drunkenness of their original take on the song, it has evolved into a dark, surfed-out love ballad with heartfelt harmonies and fuzzy tremolos. Les Chaussettes have a sound like a sexy punch to the face. It's as if they shoved dreamy bubble gum-pop, Link Wray's psychedelia, and '60s garage into a blender — then poured that musical concoction into your ears with the most genuinely sly mien. It's nearly impossible not to twist and shimmy in an epileptic state when you hear their jiving tunes.
While Les Chaussettes are the kind of band who will play one of their first shows in swimsuits and make "Pugs not Drugs" their motto, their casualness shouldn't fool you — beneath that charm lies some very impressive songwriting. Their online recordings, produced by Felix Fung at Little Red Sounds, are deeply alluring with sexy guitar riffs, tripped-out synth antics, and some punchy bass lines. Talking to the girls about the Little Red sessions they seem hyped on the recordings, despite their sound having evolved since then.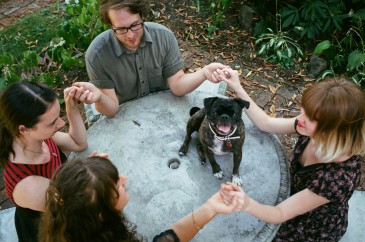 "When we first started, we were jamming at Little Red because we didn't have a space or anything. The recordings kind of just came out of that and we're stoked on them," Turner says.
"It's funny 'cause that was barely even a year ago and I feel as though everything's changed so much already, but that happens with every band," McKee finishes.
Two of these original tracks are soon to be released on a seven-inch sometime in late October/early November by Punk Fox Records; speaking with the girls about the upcoming release, they thought it sounded almost too good to be true, as McKee elaborates.
"Alex's other band, MALK, was featured on some underground UK podcast, which they didn't even know about. Someone eventually heard their song and started looking into them. I guess this guy found our name alongside theirs on some little shitty poster and came into contact with us. Obviously we were psyched that someone wanted to put out a seven-inch, but we kind of thought it was a scam at first. Eventually it all became really clear and ended up getting total control over the artwork. We recently did a covershoot involving some messily-eaten ice cream cake, so it should turn out super rad."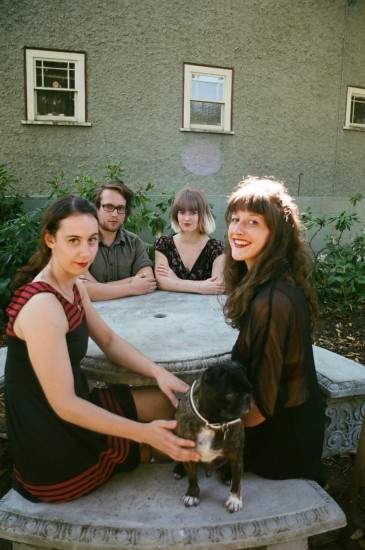 Not only are the gals from Les Chaussettes ripping musicians, they're also all aerial arts circus performers. While that and playing music may not line up entirely, I'm told they're working on incorporating the splits and possibly some aerial lifts into future Les Chaussettes sets. Turner introduced both McKee and Golubovic to circus classes and now it's become somewhat of a home away from home for the girls.
"We've always wanted to somehow bring it in at the shows, so we're practicing a few different things," McKee explains.
"There are four of us now, so we're basically a full-fledged stunting team. It's great," concludes Golubovic.
If Les Chaussettes are to begin incorporating circus art into their performances, it will be another way of shaking those tedious stereotypes that come with the moniker of being an "almost girl-group." For Les Chaussettes, that novelty has long since worn-out.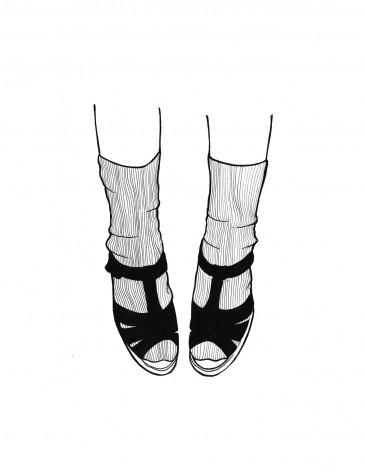 "A lot of people end up focussing solely on [the fact that we're mostly women]," says McKee. "I think it's kind of ridiculous; we're just musicians."
And damn impressive musicians at that. The girls may seem no sweeter than The Ronettes, but they back that look up by blasting some fuzz into your face with harmonized guitars and tight percussion.
At this point, Bolan has long been scampering around, drooling and getting into everything. Continually met by laughing and cute whimpering remarks, this adorable bat-looking pup obviously isn't taking things too seriously; at the same time, Les Chaussettes seem rather nonchalant too.
"We're just hoping to keep pushing things forward by experimenting," explains McKee."It's obviously all fun and we're super excited to keep creating and getting weird with things."
Les Chaussettes are bound to be our surfed-out saviours for the impending rainy season, so be sure to catch their seven-inch release party in the coming months.