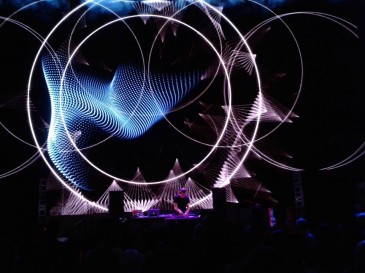 Spanning five days and several venues across Seattle, Decibel is one of North America's finest electronic musical festivals. Founded in 2003 with the broadest remit of live performance and multimedia art, Decibel's heart remains at the Experience Music Project — a contemporary exhibition space that hosted this year's headliners, including Simian Mobile Disco, Richie Hawtin, and Oneohtrix Point Never.
WEDNESDAY
Vancouver's own Sabota opened EMP's main stage on Wednesday evening at the wonderful Sky Church, fully utilising the epic space with their glitchy house productions, while Portland's Natasha Kmeto continued the West Coast connection. Singing, sampling, and layering each tune live around the simplest of bass lines, Kmeto  was warmly received by a loyal fanbase. (It's worth noting the Kmeto was one of the few female performances of the festival, but she repped her sex well.) Following a scheduling logic of bleeps/bass/bleeps, Lusine was cheered like a local hero with his perfectly judged mix of melody and abstraction.
But it's Max Cooper who was Decibel's first wow factor, performing a special AV show called Emergence. Hinted cellos and pianos emerged from under the radar, rising to an ethereal wall of stifled screams and looped feedback you could live inside for a week, scored to maddening visuals of melting city scapes and digital coral. EMP's no-drinks-on-the-dancefloor propriety was fine but Decibel's true festival vibe was in the smaller downtown venues, if you could find them. Re-Bar hosted the first afterhours party, chucking out hard techno courtesy of Black Asteroid. (His brand of old-school hardcore mightn't be the trendiest sound but on a late Wednesday night in Seattle, Decibel started for real.)
THURSDAY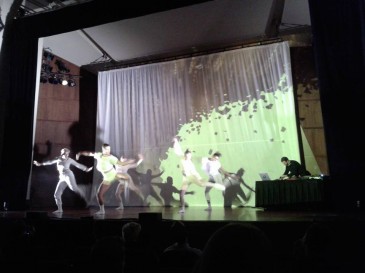 Where Wednesday ended in a polysexual dive bar, Thursday began in a symphony hall. In the Illsley Hall Recital Room Decibel's genre-defying, cross-platform magic became evident. Sweden's Alice Boman brought wistful trumpety folk before Survive and their 1970s-inspired psychedelia on appropriately named Korg machines. Returning for his second Decibel set in 24 hours, Max Cooper headlined in collaboration with dance collective Pendleton House. The five dancers' fluid synchronisations and paired-off, sexually-charged duets accompanied Cooper's brooding soundscapes. Evocative, beautifully conceived and expertly delivered; high-art that went beyond mere abstract electronica-meets-conceptual dance.
After such high-brow (seated) beginnings it was a short walk to Belltown's grungy Crocodile club to catch Letherette at the Ninja Tune showcase. Although great to see these fellow Brits live for the first time, in Seattle no less, they were just another electronica band. Back at EMP, however, Atom TM provided the second great Decibel moment. Manipulating visuals, vocals, and sound effects in real time with a minimal set-up, he made idiosyncratic, tongue-in-cheek techno look ridiculously easy where everyone else tries very hard. Of course it helped having a 10-metre high digital image of himself proclaiming "I… Say… Yeah!" to get his point across. Oneohtrix Point Never were the first to play a song I actually recognized as "Boring Angel" soared briefly before being lost in an otherwise underwhelming headline set that, surprisingly, failed to engage body or brain for any length of time.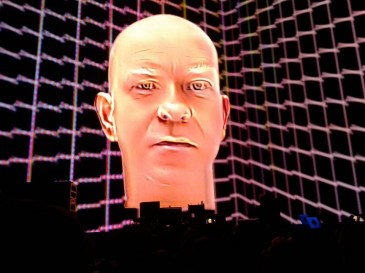 Then at Q club's After-Hours show I had a culture shock – no booze served 2 to 6 a.m. Not even the off-licenses. Washington state law. So Recondite's 4 a.m. live set of crisp, dark, dubby techno had a distinctly straight-edge vibe. Minimal in set-up as well as sound, he achieved the unthinkable: brought Berlin to the party before even Steffi, Marcel Dettman, and Richie Hawtin got to play.
FRIDAY
Friday began back at the Illsley Recital Hall for a live set by Alessandro Cortini, multi-instrumentalist with Nine Inch Nails. If "goth" is a lazy description of his analogue drone and rudimentary set-up then forgive me, but he was wearing a long leather jacket. Neighbouring Downtown venue The Triple Door had to be Decibel's most opulent venue, an all-seated restaurant theatre where ambient sets by Loscil and Rival Consoles competed with the clink of knives and forks and waiters tottering by with loaded trays.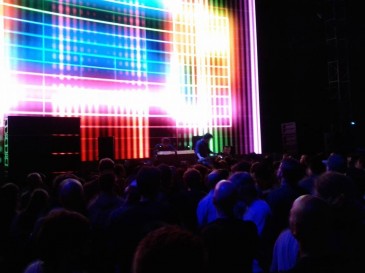 Late into Friday night the Ostgun Ton showcase at Q confirmed what I've long suspected: that Marcel Dettmann is, underneath his long hair, a machine. Resident DJ at Berlin's legendary Berghain club, Dettmann's sound is a relentless, pulsating throb stripped back to the barest bones of what we might call "dance music." Given Berghain's notoriously strict door policy (I've been five times and got in twice) it was amazing to see him on the West Coast. Disproving the widely held assumption that you have to be off your face to relate to this kind of music, at 6 a.m. I had my second Seattle culture shock – the bar opens! So we all sipped pints of IPA at the bar; an unlikely ending to a night of hard, hard techno.
SATURDAY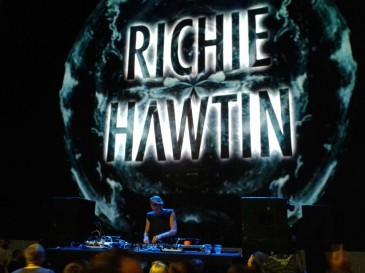 Time-space logic dictates that sacrifices had to be made and by Saturday the list was growing. Ten Walls, Com Truise, the Dub To Deep Boat Party, a multitude of workshops and artist Q&As – all fell to the axe of festival planning. But Richie Hawtin I wouldn't have missed for the world, not on that form and in that setting. Having last seen him play at Barcelona's Sonar festival in 2009 where his sound fell flat on an enormous, soulless main stage, I'm newly converted. Seemingly never more than four elements in the mix at a time, each variant was crystal clear in the Sky Church acoustics. The subtlest hint of iconic track Spastik was a timely reminder that Hawtin's delicious minimalism is, at it's best, both of and ahead of it's time.
SUNDAY
Sunday, and my first Decibel failure: the Anjunadeep Boat Party was over-subscribed. No press-pass blagging this time. However, second prize was Shameless' rooftop party at Monkey Loft in Seattle's industrial district. A spin-off of Decibel proper, it caught the perfect festival vibe with sunny city views and perfect Bloody Marys as Pezzner (Crosstown Rebels) played fresh house to an underground crowd too freaky for hipster EMP.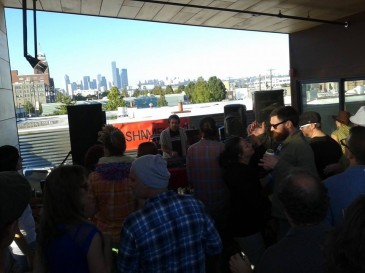 With no EMP shows on Sunday and no boat party shenanigans it all ended at Q club for All Gone Pete Tong; a slight anti-climax, I got the sense that Seattle had already gone to bed by this point. That said, it was a joy to see Pete Tong in the flesh with his cheesy hand claps and "Seattle make some noise!"
After five days, I was spent. All you've heard is true, like the very best festivals Decibel was a celebration not just of music but of the city itself.