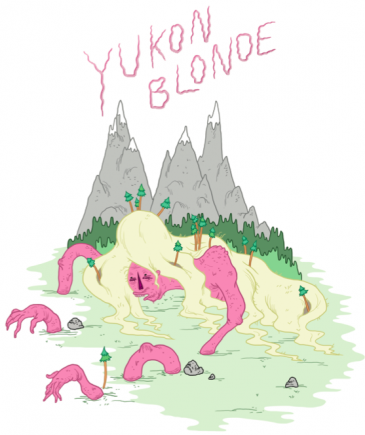 When I sat down with local rockists Yukon Blonde at the cozy Our Town Cafe on Broadway, I wasn't exactly sure what to expect. The band, mind you, wasn't hard to find—frontman/guitarist Jeff Innes and bassist John Jeffrey have the kind of long hair you might expect of metal enthusiasts. Seated together with guitarist Brandon Scott, finding something to talk about was easy. Between the newly released Fire//Water EP and their massive fall tour, the group had plenty on their minds.
Though originally formed in Kelowna as Alphababy, the band kind of fell apart after three years under that name. "We lost two members at the time, we crashed our van… we knew we needed a change," Innes explains. "We decided to throw away all our old material. We reformed." Rising like a phoenix from the ashes, Innes, Scott, and drummer Graham Jones emerged as Yukon Blonde and completed the transformation by moving to Vancouver in 2009, where they've since made a name for themselves playing genre-less, feel-good anthems.
Alternately described as alt-country, pop and '60s retro rock, it's hard to peg what exactly makes Yukon Blonde so much fun to listen to, or how exactly to describe them to friends. "We listen to everything," Innes says. As the trio lists off bands like the Kinks, New Order and Stereolab, it's easy to see that they've got a lot of listening material to potentially take influence from. While there's a little too much surfy slide guitar to confuse anything off Fire//Water with the Brit Invasion, the EP still delivers a sucker punch of good songwriting. A warm up for their next full-length, which should be released early next year, the mini-set shows what the band can do when faced with ample recording time and multiple recording tracks to play with. The extra studio flair proved to be a change of pace compared to last year's self-titled album, which was recorded live-to-tape in a single session.
"It was necessary" pipes Jeffrey of their new overdub-intensive attitude, particularly evident in "Choices" and its carefully-sculpted echoing guitar introduction; later in the same track, melodies that vibrate back and forth between the left and right speaker add a haunting touch. The meticulous attention to detail given to all four of Fire//Water's tracks add depth to the recordings, with beautifully-delivered lyrics floating above a combination of both clean and overdriven guitar riffs. Titular tracks "Fire" and "Water" aren't quite as concerned with duality as one might think, but both brim with full-bodied, reverb-laden harmonies of the vocal and instrumental kind. "Fire" particularly stands out for having one of the best harmonica solos on a record this year.
But even as we talked about the new EP, it's obvious Yukon Blonde are ready to focus on their next full-length album. Recorded at the same time as Fire//Water, the as-of-yet-unnamed LP will push the band in a decidedly different direction. "It's weirder, faster, funner," Innes says with a sinister smile on his face—as if he were caught with his hand in the cookie jar. "[The songs] aren't as safe." Although hesitant to lay out the specifics, Scott did drop one hint: "lots of synths. Tons of [them]."
The quartet are also excited about hitting the road—Yukon Blonde is a touring band and to call anywhere "home" for too long doesn't sit well with any of them. But the obvious anticipation for their journey isn't solely thanks to the locales they'll be visiting, even though their trip will take them to Newfoundland and back, then through the United States. The band is also pumped thanks to their new set of wheels.
"We just got a new van!" Scott says, announcing the words like a flashy salesman. The glint of joy in his eyes is obvious and sincere, though. Innes is thrilled too: "We've always been dogging it in these ghetto vans, since Alphababy days… we're gonna keep [this one] real clean."
While the group offers up some interesting, not to mention horrifying, stories of their old ride, the "up-and-coming metal band from Kelowna" that they sold it to probably wouldn't want to hear about them in print. "It'll get them to where they need to go," Jeffrey assures me. How much further beyond that is up to the gods of the Trans-Canada Highway. As for Yukon Blonde, they just have to worry about not drinking too much Fire//Water on their way to the East Coast.
Though currently on a North American tour, Yukon Blonde return to Vancouver to play the Biltmore on November 10 before heading back on the road.